Pete Damon Wiki
Pete Damon was the U.S. Army veteran Sgt and lost both of his arms in a mechanical accident in Iraq in 2003, many thoughts raced through his mind, but one that stuck out was concern over his future as an artist. On November 11, 2019, his work was featured on Google Doodle on Veterans Day.
According to his website, he was 28-years-old and working as an electrician when he decided to join the military. He had a three-year-old daughter at the time and wanted to set a good example for her. He chose to enlist in the Massachusetts National Guard so he could remain close to his family.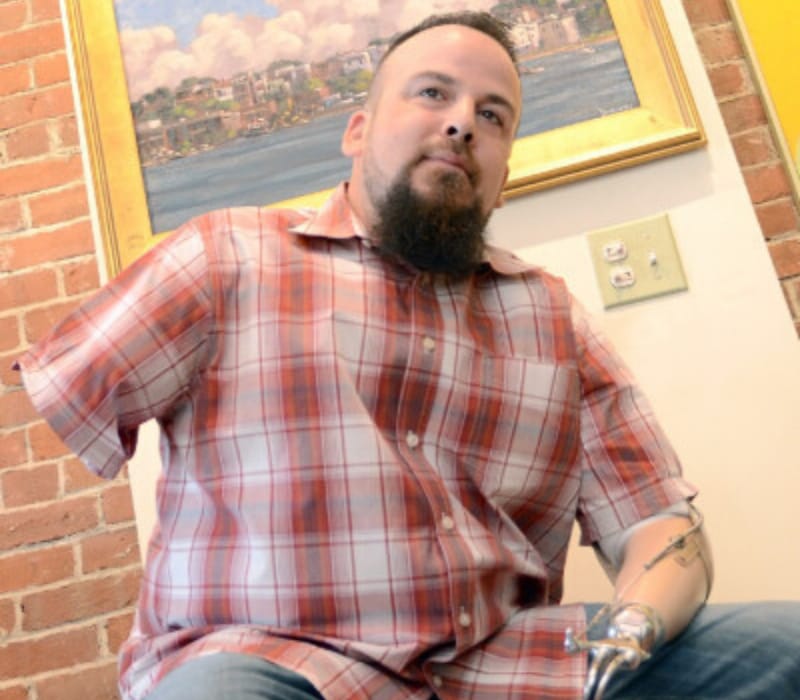 After spending more than a year recovering at Walter Reed Army Medical Center he received a set of prosthetic arms and a set of hooks. SGT Damon chose to wear only one hook, attached to his left elbow. Born right-handed, he taught himself to use his left as he no longer had an elbow to attach the hook to on the right arm.
While a patient at Walter Reed, Peter was approached by John Gonsalves, a Massachusetts construction worker who was in the early stages of starting up a non-profit organization that built specially adapted custom homes for severely injured Veterans. Peter would later become the organization's first home recipient in 2005. The father of two children, Pete has found the ability to move about freely in his own home, not relying on his wife, Jenn, and his children for tasks he can now do for himself in his Homes For Our Troops home.
Pete Damon Career
Pete and his wife Jennifer are co-owners of the True Grit Art Gallery in Middleboro and represent over 20 other regional artists as well. Pete's studio is located upstairs from the gallery.
Damon, who's sold over 20 of his paintings since opening True Grit, was still thinking about what his submission for the Sacrifice exhibit would be but said at the time he was leaning in a certain direction.
According to his website, he told that "For most of my life I've had a strong creative urge. That creative strain is prevalent in my extended family. I have many artists and musicians —uncles, aunts, cousins, and second cousins — in my family who have found richly rewarding paths in this respect, myself included among them. Coming from a working-class background, it has always been an outlet to combat and curtail the tedium of the workweek or the chaos that can seep into everyday existence. After suffering devastating injuries while serving in Iraq, I felt that urge more strongly than ever."
Additionally, he added "There was an overwhelming instinct to fall back on that creativity to pick up the pieces and begin to rebuild my life. I now approach painting as an affirmation of Being. The process of observing simple often overlooked moments of our everyday lives, and capturing that on canvas through my artistic style has given me a profound sense of meaning and purpose."
Pete Damon Wife
Pete now lives with his wife Jennifer and two children in Middleboro, Massachusetts. A daughter named Allura and son Daniel.