Kim Klacik
Kim Klacik was born on January 19, 1982, and from Baltimore, Maryland. She is a Republican candidate for Maryland's 7th District, a seat formerly held by the late Rep. Elijah Cummings.
Recently, her latest campaign ad shines a light on the blight and violence in the part of the district that includes West Baltimore, she said "It's trashy. It's people just walking around. You've got drug addicts, drug dealers, and crime. It's infested. It's just a disgrace," and the community's neglect is highlighted in Klacik's campaign ad.
Furthermore, Kim told "Sometimes the truth hurts. I know a lot of people say why didn't you say any good things about Baltimore, but we always hear about the good things," she said. "This area here is where all the murders happen. This is where all the problems are."
Her Ad is three-minute-long and she walking up and down the streets of Baltimore and slamming Democrats for the state of the city and it has been watched more than 10 Million times on Twitter.
What Exactly in the Kim Klacik Viral Ad.
In the video, Kim Klacik says "Do you care about Black lives? The people that run Baltimore don't. I can prove it. Walk with me. They don't want you to see this. I am Kim Klacik. This is Baltimore – the real Baltimore. This is the reality for Black people every single day. Crumbling infrastructure, abandon homes, poverty, and crime."
"Baltimore has been one by the Democratic Party for 53 years. What is the result of their decades of leadership? The top five most dangerous cities in America; the murder rate in Baltimore is 10 times the US average; the Baltimore poverty rate is over 20%; homicide, drug, and alcohol deaths are skyrocketing in our city."
"Do you believe Black Lives Matter? I do. The vast majority of crime in Baltimore is perpetrated against Black people, who make up 60% of the population. So why don't we care about our communities?."
"The Democratic Party (has) betrayed the Black people of Baltimore. If the politicians walked the streets as I do, they would see exactly how their policies and corruption affects us. But they don't want to see it. They don't want you to see this. Go to any Black neighborhood in Baltimore and ask this question: 'Do you want to defund the police?'."
Later, three Black people shared their view and at the end of the video, she said "Democrats think Black people are stupid. They think they can control us forever. But we won't demand better and that will keep voting for them. Despite what they have done to our families and our communities. Are they right?
I am Kim Klacik. And I'm running for Congress because I actually care about Black lives. All Black Lives Matter. Our community matters. Baltimore matters. And Black people don't have to vote Democrat."
Career
She attended Bowie University and was interested in being a broadcast journalist but later pursued her career in political activism instead. In the Bowie State University, she studied business.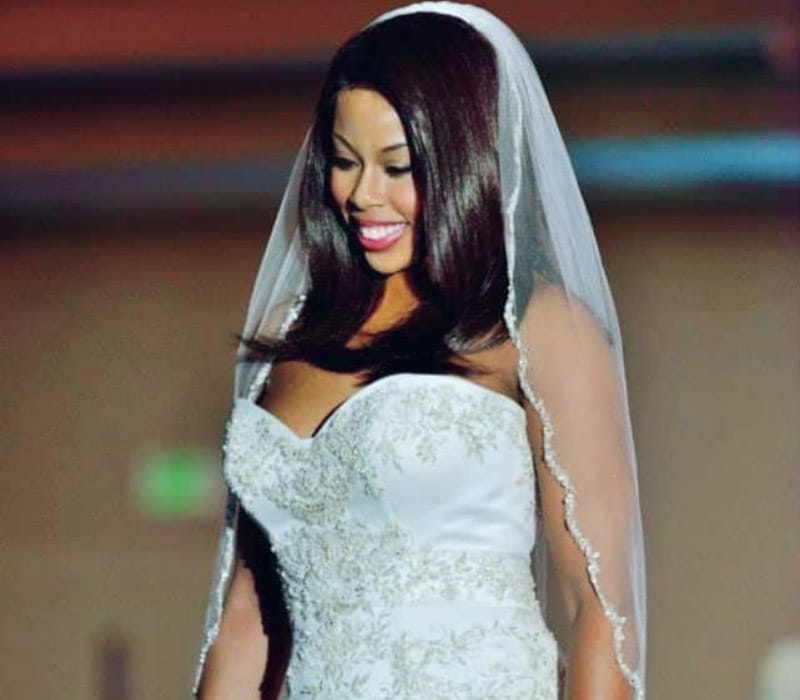 At the age of 15, she was bullied because of a medical condition called alopeci, which caused hair loss. Then, she transferred out of the institution due to bullying. Kim then attended the College of Southern Maryland and studied hospitality administration and management.
Moreover, Kim became a beauty pageant contestant, on July 11th she shared her Beauty Pageant picture on Facebook and wrote "‪Competing in pageants, bridal shows, assisting hundreds w/employment…my life was simple.‬
‪Now, I've got plans to lift thousands out of poverty. I'm not just attacked because I support Trump, I'm attacked because if I win, those making money off the poor go broke.‬"
In 2013, she founded the nonprofit, Potential Me and this organization helps workforce development by providing opportunities for women and she's the executive director. According to her website, she has "assist(ed) close to 200 women become gainfully employed, 30% (of whom) went on to obtain financial independence."
Furthermore, Kim Klacik also handed out clothes at the Gilmor House in West Baltimore as part of her outreach there.
Recently, her Ad went viral and she even received an endorsement from Trump who wrote on Twitter that she would work with him to improve Baltimore.
https://twitter.com/realDonaldTrump/status/1155073964634517505
Family
How old is Kim Klacik? She was born on January 19, 1982, and from Baltimore, Maryland, she is 38 years old as of 2020.
She is the daughter of James Clifton Bray (Father) and Katrina (Mother), her father passed away on February 21, 2019.
Kim's siblings are Kyle Bray and Corey Bray.
Husband
She is married to Jeffrey Klacik, in May of 2013 after being engaged for three years. He graduated from Towson University in 1990 with a BS in accounting.
On July 26, 2016, the duo welcomed their daughter Olivia Ann Klacik.
Net Worth
Estimated Net Worth of her is $250K USD as of 2020. She stands 5 feet 6 inches tall and weighs around 59KG.
Know About Kim Klacik Wiki, Biography, Age, Height, Husband, Net Worth, Family & Facts
Name
Kim Klacik
Nick Name
Kim
DOB
January 19, 1982
Age
38 years old as of 2020
Height
5 feet 6 Inches Tall
Weight
59 KG
Father
James Clifton Bray
Mother
Katrina
Siblings
Kyle Bray
Corey Bray.
Husband
Jeffrey Klacik
Kids
Olivia Ann Klacik
Net worth
$250K USD as of 2020