Bradley Collins
Bradley Collins is the Boyfriend of Chrissy Metz, she's an American actress and singer. On September 29th, she turned 40 and on Instagram, she raved about Bradley Collins.
In the Instagram post, she wrote "Happy #nationalboyfriendday to my dreamboat! Bradley, from the first moment I laid eyes on you I wanted and needed to know you," and added "Now I feel so lucky to love you. You can #Collinsmesmitten for sure! Thank you for being the absolute wonder that you are, I love you."
https://www.instagram.com/p/CF5jJr4l6sW/
On her birthday, Collins wished her on Instagram and wrote "Happy Birthday to my love, Chrissy. From our first date in May, you've had me #Metzmerized with love, laughter, and kindness. You're not the best thing that's happened during quarantine; you're the best that's ever happened to me. I love you. You the Best!."
https://www.instagram.com/p/CFuyZG7h-RC/
Previously, she dated composer Hal Rosenfeld but separated two years ago, on Instagram story Metz wrote "For the record, we actually broke up almost two years ago… can't believe everything you read. #LateToTheParty." From 2005 to 2013, she was married to journalist Martyn Eaden.
Who is Bradley Collins?
He is a Nashville native and a broker at Equitable Property Company. He has 20 years of experience working with songwriters, artists, record labels, and studios as a part of the creative community.
He started his career as an intern at Sony Music Publishing and served there from May 1999 to August 1999, the joined Warner Bros. Records as a Sales and Publicity Departments intern.
In Feb 2001, Collins joined Cumulus Media and began working as Mid-Day Roundup Intern and worked there for four months before joining Sony/ATV music publishing as Creative Manager.
In his career, he became Senior Director at Broadcast Music and then got promoted as Executive Director. Furthermore, he is also an Artist Manager at ROAR since November 2018.
Besides this, he Co-Founded King Song where it's an independent music publishing company founded by Bradley Collins and Whiskey Jam, the company develops artists, songwriters, and record producers in all aspects of their creative careers.
As a volunteer, he served as Grammy U Mentor at The Record Academy and started working in January 2015 till present, and was Troubadour Society Founding Advisory Committee at the Country Music Hall of Fame and Museum.
In October 2017, he became a Certified barbeque judge at Kansas City Barbeque Society. From Jan 2013 to May 2019, Collins was the Board member at Leadership Music, and in the same position, he served at the Academy of Country Music from Jan 2016 to December 2019.
Age
How old is Bradley Collins? He was born in 1977 and from Nashville, Tennessee, United States, he is 43 years old as of 2020.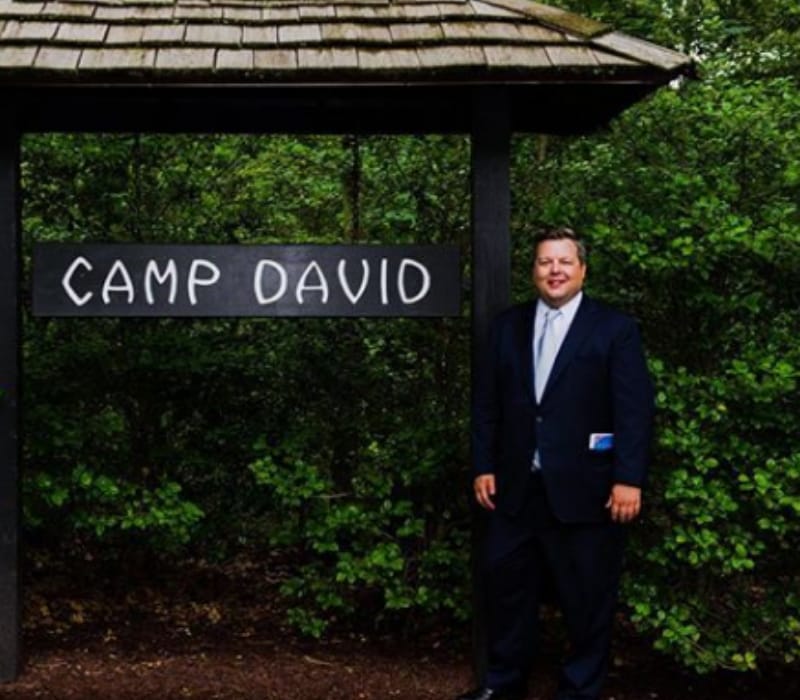 Talk on his education, he attended Franklin Road Academy and graduated from Samford University with a Bachelor's Degree in Journalism and Mass Communications and Military History. In 2020, he got enrolled at Cornell University and studying Commercial Real Estate.
On Instagram, he boasts 3.3k followers and his bio reads "Still Is Still Moving To Me – W. Nelson."
Net Worth
His Net Worth is $700K USD as of 2020.
(Image Source: Bradley Collins Instagram)