Andrew Gillum Wiki
Andrew Gillum was born on July 26, 1979, and from Miami, USA. He is an American politician, CNN political commentator, liberal activist and member of the Democratic Party. In 2018, Andrew won the nominee for governor of Florida and he became the first black nominee for Florida governor from either major party.
On March 13th, Andrew Gillum allegedly found inebriated in a hotel room where cops found meth. On Friday, he was found in a Miami Beach hotel named Mondrian South Beach and in the room cops also found baggies of crystal meth.
Why cops visited the Hotel room? Aldo Mejias, 56, called the police after his friend named Travis Dyson appeared to be in cardiac arrest. According to the report Travis has suffered a drug overdose but he is now in stable condition in a Miami-area hospital.
Aldo was the one who booked the Hotel room for that night and he got to the hotel shortly after 11 p.m. and found Dyson and Gillum inside the room under the influence of an unknown substance, he said to the police. However, all were safe and police found three baggies of "suspected crystal meth" on "both the bed and floor of the hotel room."
Later, Andrew released a statement "I was in Miami last night for a wedding celebration when first responders were called to assist one of my friends."
"While I had too much to drink, I want to be clear that I never used methamphetamines. I apologize to the people of Florida for the distraction this has caused out movement. I'm thankful to the Incredible Miami Beach EMS team for their efforts. I will spend the next few weeks with my family and appreciate privacy during this time."
Travis Dyson is working as Male Escorts and studying at a nurse practitioner school. In the male escort website, Rent Men he goes by the moniker Brodie Scott. Previously, for a short period of time, he served in the military.
Andrew Gillum Career
From 2001 to 2002, he served as president of the FAMU Student Government Association and became a member of the FAMU Board of Trustees. Then, he was also the board member of the Black Youth Vote Coalition, a program of the National Coalition of Black Civic Participation in Washington, D.C
In 2003, he was elected to the Tallahassee City Commission for a one-year term and during that time he was 23 years old and also became the youngest person to be elected to the commission. Later, in 2004 he was elected to a full four-year term and in 2008 he was reelected and as well as in 2012.
At the age of 35, he becomes mayor of Tallahassee and ran against three opponents: Larry Hendricks, Zach Richardson, and write-in candidate Evin Matthews. Andrew served as Mayor of Tallahassee from 2014 to 2018.
In 2018, Andrew was the nominee of the Florida Democratic Party for Governor of Florida and won the Democratic primary election over a field of five other candidates including former U.S. Representative Gwen Graham and former Miami Beach Mayor Philip Levine. But he lsot to Republican U.S. Representative Ron DeSantis in a close election.
In his career, he has received various honors and accolades such as country's top student leader in 2001, "Fast Track 30 Leaders Who Are 30 and Under," by Ebony magazine, Emerging Leader of the month by IMPACT and named as a "2010 Emerging Leader" by Essence Magazine.
Additionally, he was also named as one of "50 Young Progressive Activists Who Are Changing America," by The Huffington Post.
Andrew Gillum Family
How old is Andrew Gillum? He was born on July 26, 1979, and from Miami, the USA and he is 41 years old as of 2020. He is the son of Charles Gillium (Father) and Frances Gillum (Mother). His mother drove school buses and his father was a construction laborer.
Andrew Gillum is the fifth of seven children: He has five Brothers Chuck Gillum, Eric Gillum, Patrick Gillum, Marcus Gillum, & Terrance Gillum and sister named Monique Gillum.
He completed his education from Gainesville High School and attend Florida Agricultural and Mechanical University (FAMU) to major in political science.
Also Read: Peter Weber Wiki [Bachelorette]
Andrew Gillum Wife
He is married to R. Jai Howard and she was a fellow FAMU graduate. In 2018, she ran for governor of Florida in one of the most contested gubernatorial races of the year.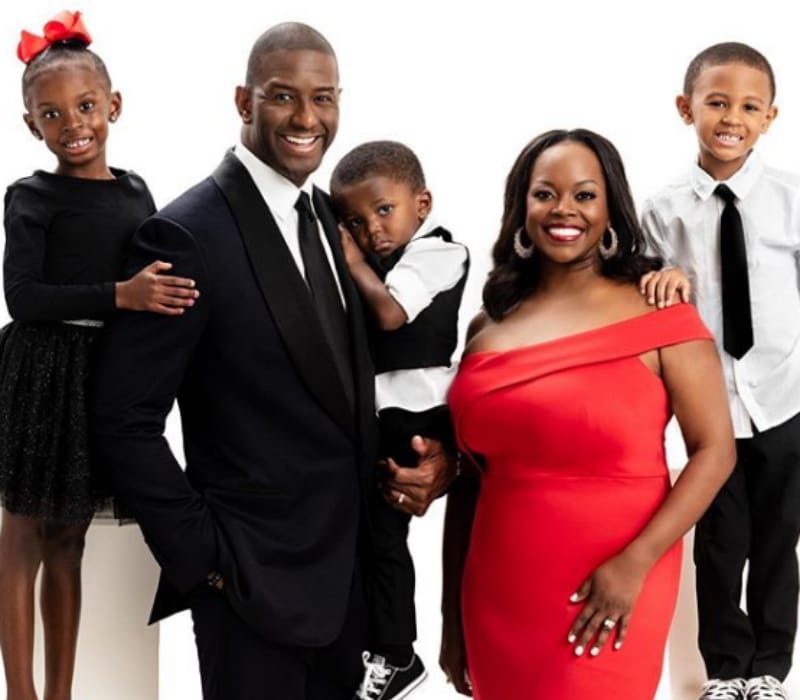 The couple first met while participating in the Student Government at Florida A&M and since then they began dating. Curently, this couple has three children: Caroline Gillum, daughter (Born in 2014), Davis Allen Gillum and Jackson Gillum. Where Caroline & Jackson are twins.
Andrew Gillum Net Worth
Estimated Net Worth of him is $500K USD as of 2020. He stands 5 feet 10 inches tall and weighs around 82KG.