Juliana Carlos was born in 1995 and from the USA, she is a Social Media personality and wife of Rich Businessman, Chris Carlos.
She gained fame after heckling Lebron James on Tuesday's match between Los Angeles Lakers and Atlanta Hawks, but Juliana stole all the headlines from the clash. In the match, she heckled LeBron James and got into a heated argument.
Furthermore, this caused the referees to stop the play midway through the fourth quarter, then Juliana Carlos and her husband Chris Carlos along with two others were kicked out of the State Farm Arena.
In the video, Juliana was seen in a heated argument with Lakers star, LeBron James and her video went viral on the social media platform, in the video, Juliana claimed that NBA legend said something to her husband and this caused her to lose her cool and hit back by standing up and "Don't f–king call me a b—h. You sit the f–k down. Get the f–k out of here. Don't f–king talk to my husband like that".
This caused the stoppage in play and then the referee stepped in and ejected Juliana with three others from the game, while leaving the game Juliana held up her middle fingers. However, LeBron James then took to Twitter and wrote 'Courtside Karen'.
Regarding this Incident, the NBA is set to launch an investigation into the matter.
On February 3, 2021, she posted the picture on Instagram and the post reads "About Last night… To say things escalateded quickly at Yesterfay's game is an understatement, and I want to apologize for losing my cool and removing my mask in the heat of the moment. My husband is a huge sports fan and we're passionate people, and let's be real: sports wouldn't be sports without a little trash-talking."
Later, she added "What should have been a quick back and forth between two adults got out of hand and my instinct to stand up for the man I love kicked in. Did I get defensive when that happened? Yes. Did I use offensive language when I could have taken the higher road? Yes. And for these things, I take full responsibility."
Later, Juliana took to Instagram and told that she and her husband are passionate sports fans and sports wouldn't be sports without a little trash-talking. On the other hand, Juliana's husband Carlos has show hatred for LeBron on social media platforms before.
Who is Juliana Carlos?
She is an Instagram Model, Social Media personality, and boasts 74.2k followers on Instagram, she gained media attention as 'Courtside Karen', on Twitter the term started trending following the incident with Lebron James.
Since then, Juliana and her husband Carlos received a lot of backlashes, Chris Carlos who is a 56-year-old partner at a prominent Georgia-based wine and spirits distributor, has previously posted images on Instagram showing his hatred for LeBron.
Besides this, Juliana has a Youtube channel under her name and has 372 subscribers during the time of writing. On her Youtube channel, he mainly uploads videos such as Makeup Tutorial, Hair and Dress videos. As an Influencer, she even bagged the endorsement from the Little Things and Lou Boutin world.
Age
How old is Juliana Carlos? She was born in 1995 and from the USA, she is 26 years old as of 2021.
However, there is not much information about her father, mother, and siblings.
Husband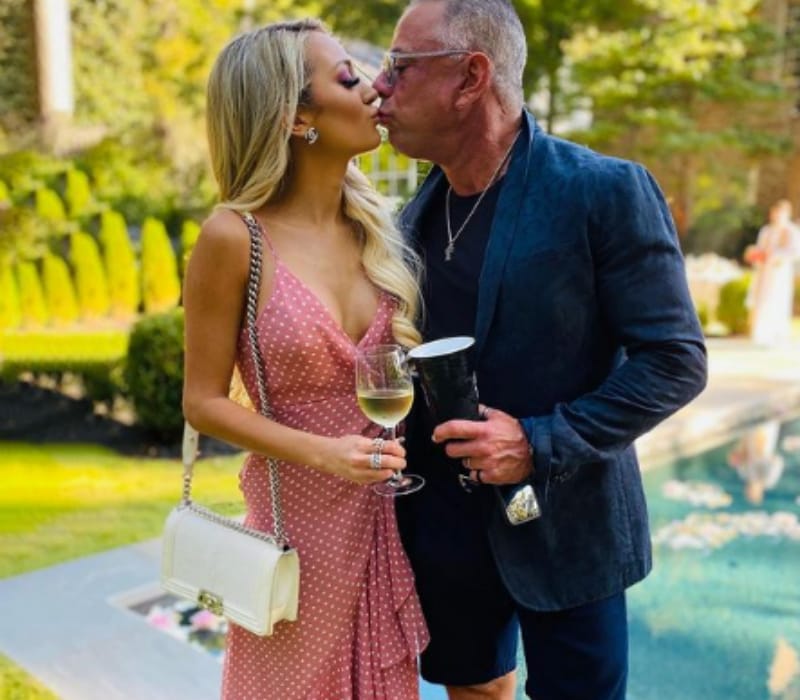 Juliana Carlos is married to Businessman Chris Carlos, the duo tied the knot on March 13, 2020.
On December 31, 2020, Juliana shared her wedding picture on Instagram, then in another post, she wrote "Our 2020 Christmas Card, Merry Christmas everyone. Wishing you all nothing but love, peace, health, and happiness!."
Chris had a son from his previous relationship, however, there is not much information about his previous relationship.
Net Worth
Her Net Worth is $280K USD as of 2021. She stands 5 feet 5 inches tall and weighs around 52KG.
(Image Source: Juliana Carlos IG)