Jens Grede is the Co-founder/Chairman at FRAME, Wednesday Agency, Saturday Group. Emma Grede, a recurrent guest star on SHARK TANK, married her husband Jens about ten years ago. Kim Kardashian's shapewear brand, Skims, is one of the profitable enterprises they work on together.
Who is Jens Grede?
Jens Grede's several attempts at creating modern fashion labels, such as clockwork, have led to profitable, multi-million-dollar businesses. Grede debuted in the consumer fashion arena in 2008 with denim-focused Frame, which he co-founded with Erik Torstensson, his creative partner at Saturday London.
Karlie Kloss, who originally collaborated with the brand in 2013 on denim styles for tall women, is one of the brand's many model collaborators. Grede and his wife Emma Grede launched an expedited rollout of brands with notable people as founding partners nearly a decade after Frame's debut.
In 2016, they launched the size-inclusive denim brand Good American with Khloé Kardashian. In 2019, Kim Kardashian's shapewear line Skims debuted, and Kris Jenner and Chrissy Teigen's natural cleaning goods line Safely debuted in March – Teigen later departed the company.
Grede most recently collaborated with Tom Brady on the Brady performance gear line. In 2021, revenues for Frame, Good American, and Skims were predicted to total more than $600 million, with Skims accounting for more than $300 million.
Jens and Emma Grede's holding company is appropriately named Popular Culture. Other stockholders in the firms they co-founded include the Kardashian-Jenners, Theory founder and investor Andrew Rosen, Imaginary Ventures, and Thrive Capital.
Jens and his Frame cofounder, fellow Swede Torstensson, met while working with Tyler Brule at Wallpaper in the early 2000s and went on to create Saturday London, a creative firm. In 2008, they launched Frame denim, inspired by the off-duty model's appearance, and with Kloss, they created an early size-inclusive line for taller women. Because of its wholesale and physical retail network, Frame struggled the most of the three businesses during the pandemic; with revenues down 11%, it laid off 10% of its workforce in 2020.
Serge Azria, founder of contemporary brands Equipment, Joie, and Current/Elliott, and a made-in-Los Angeles fashion mogul alongside brother Max Azria of another era, the 1980s to early 2000s, sold his $24 million Bel Air home to Jens and Emma Grede in May. Since moving from London to Los Angeles in 2017, the pair have been creating brands.
How old is Jens Grede?
Jens Grede was born in 1978 in the United States, and he is 44 years old. He was born to Kjell Grede (Father) was, a Swedish film director. He has three siblings named Jenny Grede, Joel Grede, and Klara Grede.
Who is Jens Grede's Wife?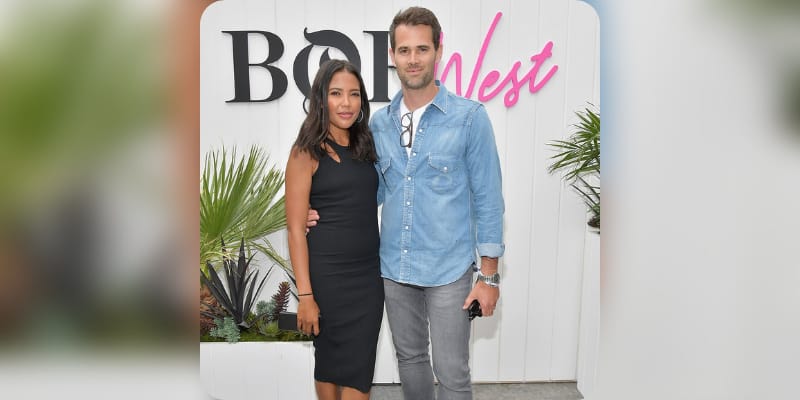 Jens Grede is married to Emma Grede, who is the cofounder of Skims and the Frame denim company.  They have four children and moved to Los Angeles in 2017. Emma Grede posted an image of her and Jens' newborn twin babies to her Instagram account on November 2, 2021, with the help of a surrogate mother.
Emma had wished her husband a happy anniversary on July 28, stating that they had spent the previous 13 years together, nine of them as a married pair and that they had spent the previous 13 years together.
Emma Grede made her first appearance on Shark Tank as a guest shark in season 13 of the show. Since the show's beginning in 2009, she has been the first Black female investor to be featured on Shark Tank.
How Rich is Jens Grede?
The estimated Net Worth of Jens Grede is between $100 Million to $300 Million USD.
(Image Source: The Sun, Meaww, DailyMail)