Kelly Bachman Wiki
Kelly Bachman was born on November 16, 1993, and from North Carolina, USA. She is a Singer, ScreenWriter, Comedian, Guitarist, Director and Producer from America. Recently, Kelly went viral after she posted a video of her calling out Harvey Weinstein as he sat in the crowd during her performance at Downtime Bar NYC.
Kelly produced and starred in the show called "Rape Jokes: By Survivors" and also produced several Standup comedy film and some of her projects are "BOOBS" which premiered at the LA Shorts International Film Festival in 2017 and currently has 100,000+ views on YouTube. Later, Kelly directed "STARTUP" (2017), "RECEDING" (2018), and started the "SOFA KINGDOM SKETCH VARIETY SHOW", a weekly Facebook live-streamed web series and sketch show.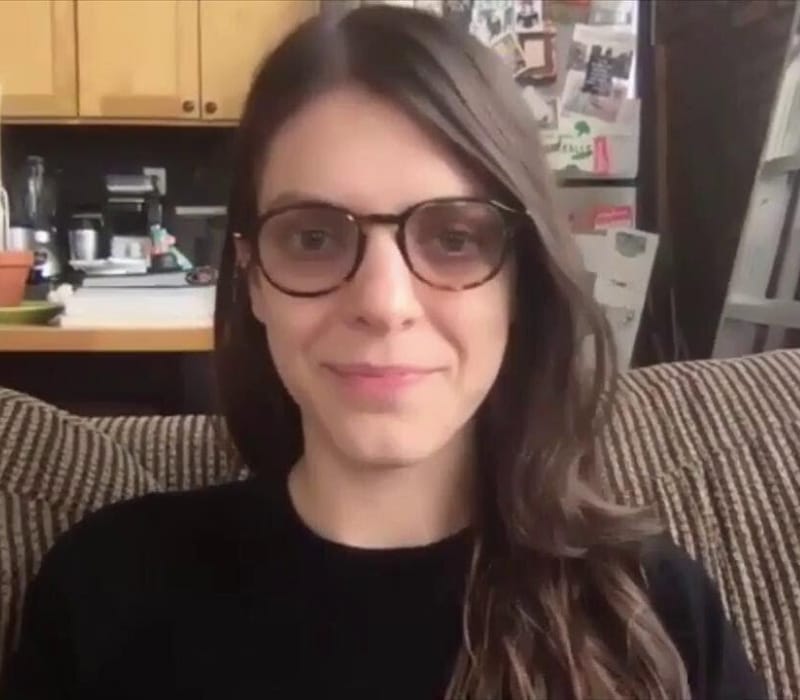 Kelly Bachman on Harvey Weinstein
On October 25, she posted a video on Twitter and in the video she confronted Harvey who is a Producer and turned himself into the NYPD related to rape charges. It all occurred at the even called "Actor's Hour" on Wednesday nights and producer Harvey Weinstein showed up at Wednesday's event unannounced which shocked several female attendees and performers.
Later, in the video, Kelly started "I'm a comic and it's our job to name the elephant in the room…do we know what that is?. It's a Freddy Krueger in the room if you will." She said and added, "I didn't know that we had to bring our mace and rape whistle to Actor's Hour."
But from the Weinstein's table some members boo the joke and one member shouted to "shut up!" but Kelly kept on talking and many women cheered Kelly and you can watch the video below.
Keep getting new followers today is it because my tweets are so fire? lol fuck Weinstein and thanks @ambercrollo ILY #mysecondtweet pic.twitter.com/hLjWn5VM8Y

— Kelly Bachman (@bellykachman) October 24, 2019
Later, in the video, she has been Sexually Assaulted by three men "I have been raped, surprisingly by noone in this room, and I never got to confront those guys." Her video has recieved a 106.6k view as of October 27, 2019, and received 13.1k likes.
Kelly joined Twitter in May 2019 and till now she tweeted 3 timed before uploading this video. Curently, she has 87.3k plus followers on Twitter. According to her website, she is a writer, director, producer, comedian and musician from North Carolina—currently based in New York.
As a writer-director, Kelly's debut short, BOOBS, premiered at LA Shorts International Film Festival in 2017. Kelly's other various sketches and shorts have played comedy festivals including Sketchfest and have been featured in publications such as Huffington Post. Later, as a comedy producer, Kelly was recently interviewed by Elle Magazine to discuss her latest production, Rape Jokes by Survivors.
She writes and produces a live-streamed, sketch variety show, Sofa Kingdom and performs stand-up comedy around New York City. Kelly also co-hosts Stoked Comedy the first Thursday of every month at Mad Tropical in Brooklyn. Additionally, Kelly is a founder of two film organizations, "Women Independent Producers", a network of women producers, and "Curve Filmmakers," a collective of budding filmmakers. Kelly starts so many film collectives, No Film School asked her to write about it.
Kelly now also moonlights as a singer-songwriter and guitarist in a band called Boys Drool! They perform around New York. The band regularly performs on Bachman's sketch show "Sofa Kingdom" and at various comedy shows, bars and clubs around NYC.
Kelly Bachman Family
How old is Kelly Bachman? She was born on November 16, 1993, and from North Carolina, USA and 26 years old as of 2019. However, there is not much information about her father and mother. Kelly has a sister named Courtney Michelle Bachman.
She completed her education from NC State University in 2014 and received a Bachelor of Arts Degree in Communication, Public Relations, and International Studies.
Kelly Bachman Boyfriend
Kelly has not revealed anything about her Boyfriend or relationship status online.
Kelly Bachman Net Worth
Estimated Net Worth of her is $550K USD as of 2019. She stands 5 feet 6 inches tall and weighs around 56 KG.