Jonathan Steinberg
Jonathan Steinberg was born in 1965 and from the USA. He is a Wall Street financier, CEO of WisdomTree Investments, and Husband of Fox Business anchor Maria Bartiromo.
Maria is an American financial journalist, television personality, news anchor, and author. She is the best know for hosting Mornings with Maria and Maria Bartiromo's Wall Street on the Fox Business channel, as well as Sunday Morning Futures With Maria Bartiromo on Fox News.
In her career, Maria won several awards for her work which include a pair of Emmy Awards and in 2020 she received the Thomas L. Philips Career Achievement Award from the Fund for American Studies.
Know About Jonathan Steinberg
Curently, he is the CEO of WisdomTree Investments where its an asset management company in New York. He hails from a wealthy family, his father Saul Steinberg was known as a 'Corporate Raider' and served as the Wall Street Executive.
Jonathan's father Saul became a billionaire by age 40, he followed his father and took him as his idol. At the age of 13, Jonathan developed an interest in finance and began acquiring stocks, he made his first investments in Abbott Laboratories which gave him a big profit.
In the meantime, Jonathan enrolled at the Wharton School of Business at the University of Pennsylvania but didn't completed his education and dropped out of college before his senior year. In 1986, he did a summer internship at Bear Stearns and asked the executives to hire him full-time.
At the age of 20, he began working as an analyst within Bear Stearns' Mergers and Acquisitions Department and served there for three years and launched his own venture. Jonathan bought a tabloid called the Penny Stock Journal and renamed it to Individual Investor Group, then bought a smaller publication called America`s Fastest-Growing Companies.
In the early 2000s, his company and magazines collapsed after the dot-com crash. Later, he changed his company name to WisdomTree and now he is the CEO. According to the website, WisdomTree Investments got into the business of Exchange Traded Funds in 2006 and now they claim it is the largest Exchange Traded Product (ETP) sponsor in the U.S.
According to the Financial Times, WisdomTree managed more than $60 billion in assets in 2018 and now Jonathan wants to grow that number to at least $100 billion, he said.
Besides this, he penned down a book called Midas Investing: How You Can Make at Least 20% in the Stock Market This Year and Every Year was published in 1996.
Family
How old is Jonathan Steinberg? He was born in 1965 and from the USA, he is 55 years old as of 2020.
He was born to Saul P. Steinberg (Father) and Barbara Steinberg (Mother), Jonathan has a sister named Laura Steinberg.
Wife
Jonathan Steinberg and Maria Bartiromo tied the knot n 1999, the couple does not have any children but they do have a dog named Dusty.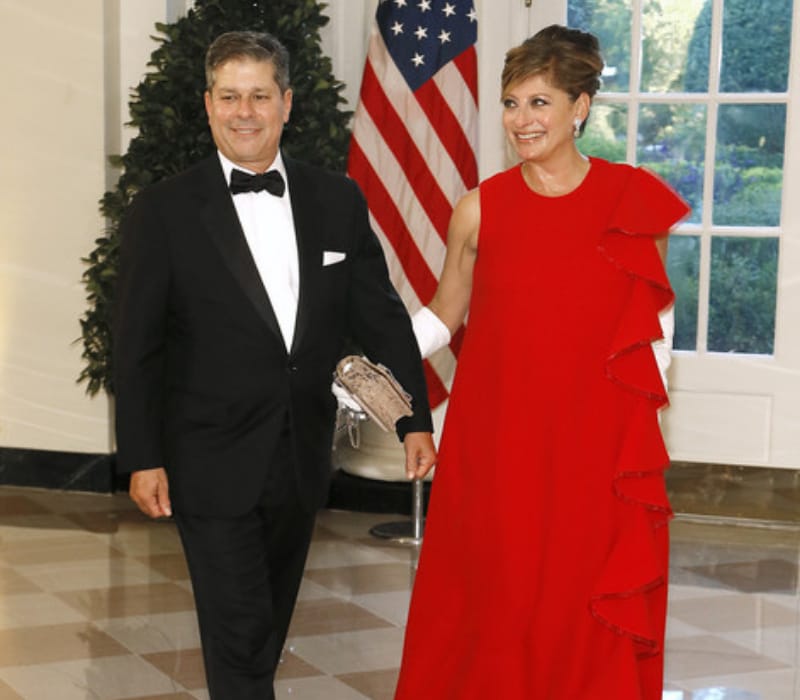 In 2007, Jonathan and Maria bought a 5-story townhouse in the Upper East Side of Manhattan for $6.5 million, their house has five bedrooms, a 39-foot backyard, and a 342-square-foot family room.
Net Worth
His Net Worth is $ 60 Million USD as of 2020. He stands 5 feet 10 inches tall and weighs around 87KG.
Jonathan Steinberg Wiki, Biography, Age, Height, Net Worth, Wife, Family, & Facts
| | |
| --- | --- |
| Real Name | Jonathan Steinberg |
| Nick Name | Jon |
| DOB | 1965 |
| Age | 55 years old as of 2020 |
| Height | 5 feet 10 inches tall |
| Weight | 87 KG |
| Father | Saul P. Steinberg |
| Mother | Barbara Steinberg |
| Siblings | Laura Steinberg (Sister) |
| Wife | Maria Bartiromo |
| Kids | No |
| Net worth | $60 Million USD as of 2020 |
(Image Source: Zimbio, NYTimes, TheBzzDom)