Joe Exotic
Joe Exotic aka Joe Schreibvogel was born on March 05, 1963, and from Oklahoma, USA. He is an American former zoo operator and convicted felon. Furthermore, he owned a Zoo named G.W Zoo in Wynnewood, Oklahoma, USA. The Greater Wynnewood Exotic Animal Park was a big focus in Netflix's Tiger King series.
Earlier, the ownership was eventually switched to Jeff Lowe and now the ownership has switched again and the park was recently handed over to Carole Baskin. Joe rose to fame for his video in which he plays with Tiger and other Wild Animals and that's where he received his Nickname Joe Exotic.
Joe was claimed to be the most prolific breeder of tigers in the United States. According to the recent report the Oklahoma federal judge gave ownership of the Greater Wynnewood Exotic Animal Park to Carole Baskin's Big Cat Rescue Corp and the court had also awarded her $1 million against Exotic for trademark and copyright infringement.
The court has ordered to vacate animals within 120 days. Curently, Tiger King's Carole Baskin is taking over control of her nemesis Joe Exotic's former zoo in Wynnewood, Oklahoma. Jeff Lowe posted an update on his Official Tiger King website, he wrote.
"We congratulate her on her acquisition of 16 acres of mud in the middle of Oklahoma," and he added that the new park they are building is almost complete.
Career
Earlier, Joe served as a Sheriff in Local Police and became the chief of the small department. In 1986, Joe Exotic along with his brother Garold opened a Pet Store but they closed the store after a year. However, Joe opened another Pet store nearby to the previous store.
Then, he opened a Zoo on a 16-acre land but during this time he lost his brother in a car accident and after two years after his brother's death, the farm opened as Garold Wayne Exotic Animal Memorial Park as a dedication to his brother.
There were 187 Tiger in his Zoo and he acquired his first two tigers in the year 2000. For two decades he was known as Joe Exotic and he even operated an online reality television show that he streamed from his zoo. Additionally, Joe staged shows at fairs and in shopping malls.
Apart from this, Joe Exotic released a video for the song "Here Kitty Kitty", a diss track against Carole Baskin in 2015. Then, once he ran as Joseph Allen Maldonado as an independent candidate in the 2016 election for President of the United States, attained ballot access in Colorado, and received 962 votes (including recorded write-ins) nationwide.
Later, he ran as Joe Exotic in the primary election for the Libertarian Party in the 2018 election for Governor of Oklahoma and received 664 votes in the primary, finishing last among the three Libertarian candidates, but after his arrest, the state convention voted unanimously to revoke his party membership.
Family
How old was Joe Exotic? He was born on March 05, 1963, and from Oklahoma, the USA and he is 57 years old as of 2020. He is the son of Francis Schreibvogel (Father) and Shirley Schreibvogel (Mother), he had two brothers and two sisters.
Joe Exotic grew up with horses, cows, chickens, dogs, cats, and various other animals. At the age of five, he was raped by an older boy.
Also Read: Fiona Moriarty-McLaughlin Wiki
Husband
Joe Exotic met his first husband, Brian Rhyne, in Arlington, Texas. Then, the duo moved into a trailer park together with a pack of poodles.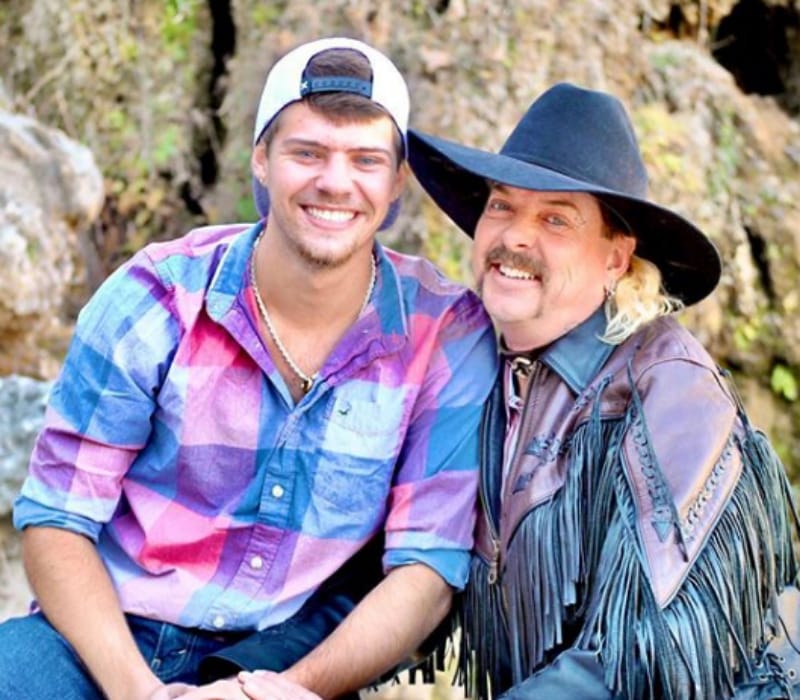 Curently, he is married to Dillion Passage and tied knot in 2017. On March 28th, 2018, Joe shared his Husband picture and wrote "My sexy man and our kid."
https://www.instagram.com/p/BjOZ_w3BPA9/
Net Worth
Estimated Net Worth of Joe Exotic is $12 Million USD as of 2020. He stands 5 feet 10 inches tall and weighs around 79 KG.
Joe Exotic Biography
Full Name: Joe Schreibvogel
Nick Name: Joe Exotic
DOB: March 05, 1963
Born: Oklahoma, USA.
Nationality: American.
Religion: Christianity
Famous for: American former zoo operator
Education Details
College: No
School: Private High School
Qualification: NA
Physical Statics
Height: 5 feet 10 inch
Weight: 79 KG
Eye Color: Brown
Hair color: Blonde
Marital Status: Unmarried
Age: 57 Years Old
Favorites and Hobbies
Hobbies: Travelling, Reading Book, Shopping, and Watching movies.
Favorite Actor: Brad Pitt.
Favorite Actress: Gal Gadot.
Favorite Destination: Paris and New york
Favorite Food: Italian and Chinese Cuisine.
Parents
Father: Francis Schreibvogel
Mother: Shirley Schreibvogel
Brother: Two
Sister: Two
Relatives: Will Update Soon
Relationships, Affairs, Dating
Boyfriend Name: Dillion Passage
Dating history: Brian Rhyne
Husband: Dillion Passage
Networth
Net worth: $12 Million USD as of 2020
Social Media Accounts
Twitter Account: Yes
Facebook Account: Yes
Instagram Account: Yes