Eva Murry Wiki
Eva Murry was born in 1994 and from Cinnaminson, New Jersey, USA. Eva is the Niece of Former Republican Senate Candidate O'Donnell and curently she's in the media headlines after she alleged former Vice President Joe Biden sexually harassed her at a dinner in 2008. During that time she was just 14 years old and shared her story on The Law&Crime website under the title "Woman Claims Biden Sexually Harassed Her When She Was 14 Years Old by Complimenting Her."
However, the article was updated after Joe Biden's campaign called the claim false and the publication update new version, in the article Eva said the incident occurred in 2008 at the First State Gridiron Dinner & Show and Joe Biden was still a senator.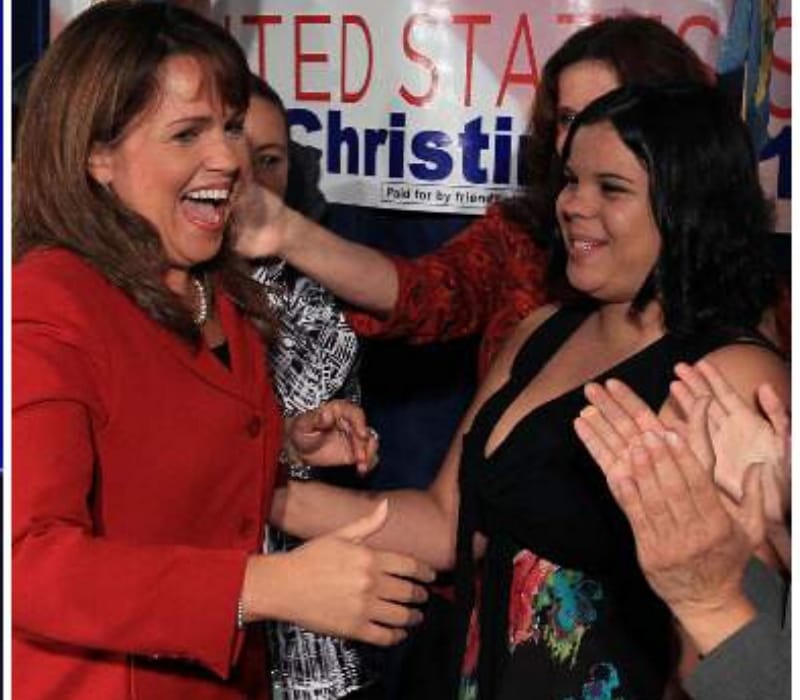 At the Dinner, Eva claimed that Joe Biden complimented her breasts when she was only 14 years old but the Biden's supporter claimed that in 2008 he didn't attend the Political Dinner, Biden campaign also provided a letter from a man who identified himself as the former vice-president of the Gridiron Dinner.
But Eva's Aunt O'Donnell said that the incident might have occurred in 2007 or 2009 instead.
ON APRIL 8TH EVA MURRY MADE THE CLAIM ON FACEBOOK AND THEN DELETED THE POST.
On April 8th, 2020, Eva wrote a lengthy post on Facebook, and below is the complete post.
"Alright guys I've told this story a few times to friends and family, but with Bernie dropping out and everyone talking about Biden, instead of commenting everywhere I'm going to take the time to put this little story out there.
In 2008 my aunt Christine O'Donnell ran for senator against Joe Biden( yes, she did run AGAINST Joe Biden In 2008, in 2010 she ran against Chris Coons for the seat Joe Biden left vacant when he became Vice President). I spent a lot of time on the campaign with her like a little mini-campaign manager and I was 14 years old, I even got credit in school when I would miss for big political events.
Which brings me to the first time I met Joe Biden, it was at a political event called first state gridiron dinner & show, it was a roast of all Delaware politicians, it was hilarious! A great time in the beginning.
Also Read About: Tara Reade Joe Biden Accuser
When we first arrived my aunt was making her rounds in the crowd, I was her date to the event so I followed by eager and excited to meet some pretty big names, when the time came for Biden and my aunt to greet each other they made their acknowledgments to each other ( they were running against each other and had met plenty of times before ) and the attention quickly turned to me, Biden looked me up and down, he said " who are you ? ! ", I replied " I'm Christine's niece " he goes " niece ?! how old are you ?! " I then said " I'm 14 sir " he says " 14 ?! Only 14?! You're very well endowed for 14 years old "Back then I didn't know the meaning of this, for those of you that still don't, it means Biden was telling me I had very large breasts for a 14-year-old. Sick. I learned shortly after what he meant and felt uncomfortable every time I met him after that."
Husband
Eva is curently engaged with a son and daughter. However, there is not much information about her love life but will be updated in the future.
Eva Murry Wiki
Full Name: Eva Murry
Nick Name: Eva
DOB: 1994
Born: Cinnaminson, New Jersey, USA
Nationality: American
Religion: Christianity
Famous for: Niece of Former Republican Senate Candidate O'Donnell
Age: 26 years old as of 2019.
Education Details
College: NA
School: High School
Qualification: Will Update
Physical Statics
Height: 5 feet 3 Inch Tall
Weight: 62KG
Eye Color: Brown
Hair color: Black
Marital Status: Engaged
Favorites and hobbies
Hobbies: Travelling, Reading
Favorite Actor: Tom Cruise
Favorite Actress: Angelina Julie
Favorite Destination: Miami
Favorite Food: Mexican
Favorite Food
Father: NA
Mother: NA
Brother: No
Sister: NA
Relatives: NA
Relationships, Affairs, Dating, Husband
Boyfriend: NA
Dating history: NA
Husband: No
Children: Two
Ex-Spouse: No
Net Worth
Net worth: $ 250K USD.
Social Media Accounts
Twitter Account: Yes
Facebook Account: Yes
Instagram Account: Yes