Candace Muzny Wiki
Candace Muzny is the Race Car Driver and owner at CNM Racing, Inc. She was born on June 18, 1981, and from Oklahoma City, USA. Recently, she was arrested by Oklahoma City police for allegedly attacking workers and an officer at a metro nail salon.
On Sunday Night Police were called to a nail salon off West Britton on reports of a disturbance. According to the police report, Candance was an old customer and she visited the Salon during the closing time and asked for manicure and pedicure.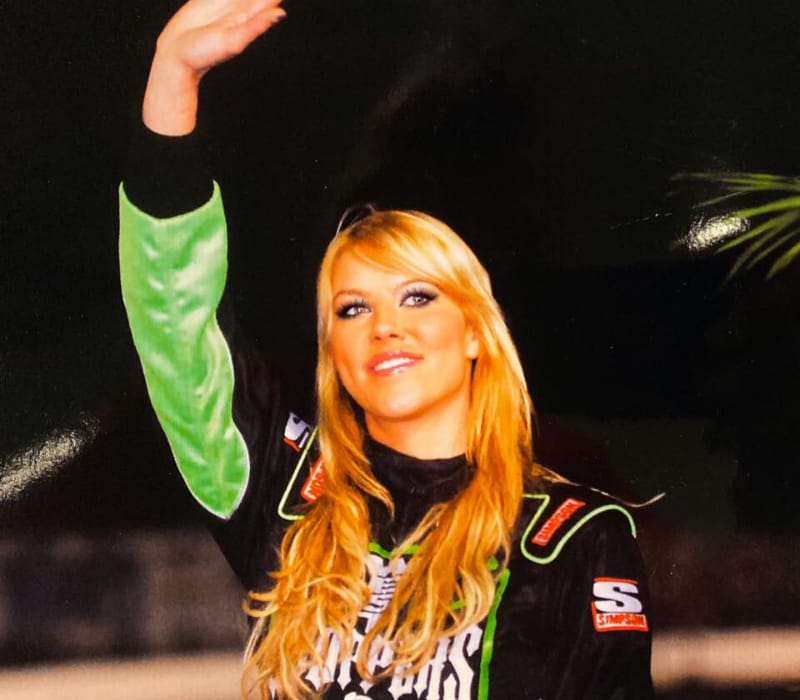 But, Tiffany Nguyen, the nail tech who gave Muzny her pedicure said "I sat her down and got everything ready," and she added "She had all of her stuff everywhere and she was already going little nuts," said Nuyen. Later, Candance got aggressive and yelled at the Salon workers.
Tiffany said she was in the conversation with a co-worker in her mother tongue but Candace said to f**k**g stop speaking that language or I will slap you in the face. According to the police report, Candance started to attack Nguyen.
Curently, she could be looking at multiple charges, including two felonies of Assault and Battery, News9 reports. Later, the report suggested that the incident was labeled "anti-Asian bias."
Candace Muzny Career
According to her Linkedin page she describer herself as "Candace is quite the racer who's willing to give it to her best on the track, working on her car until it's fast, competitive, and most of all, in winning shape. She's determined, smart, business savvy, and well aware of what it takes to succeed in racing."
" Having interviewed her and followed her career, she's an exciting driver to watch and will delight your company with her charisma, charm, drive to succeed, as well as her congeniality as a NASCAR competitor. There's no letting up from Candace, who'll do you proud with her determined efforts to be the next star driver in a sport that needs more hard-working and driven individuals like her."
By looking at the DriverData base: Races Entered 35, 0 wins, and 1 Podium. Her first race was in the year 2007 NASCAR West Series and ended with 73rd position.
In 2008 Fall Brawl Late Model 250 she finished 24th,
In 2009 Tri-County Motor Speedway Late Model Stocks she acquired 25th position,
In 2009 Orange County Speedway Late Models she finished the race with 10th position,
In 2010 NASCAR Toyota All-Star Showdown she gained 24th spot,
In 2011 NASCAR K&N Pro Series – East 55th position,
In 2011 UARA Stars 12th position
In 2012 NASCAR K&N Pro Series – East she gained 78th spot.
Candace Muzny Age
How old is Candace Muzny? She was born on June 18, 1981, and from Oklahoma City, USA and she is 38 years old as of 2019. However, there is not much information about her father, mother, and siblings.
She completed her education from Richland Community College and attended the Art Institute of Dallas graduated with Fashion Marketing in 1996. Then, she received a BA in Fashion Marketing from the University of Texas at Dallas.
Candace Muzny Husband
She was the Fiancee of Race Car Driver Del Dalrymple and he passed away on Nov.22, 2007. Del was a two time World Champion Race Car Driver, fabricator, Crew Chief but was a natural behind the wheel.
On October 8, 2018, she shared a picture and wrote "This was the first day I met Mr. Jesse James @ Irwindale Speedway! One of the best days of my life that day! I miss u, Del Dalrymple! Del was the one that changed my stars forever and made all my dreams come true! Jesse thank u for also help to make my dreams come true!! U forever have blessed my life and saved my soul! I love you always and forever for making my stars shine so bright!."
https://www.facebook.com/candacemuzny/photos/a.627918503939285/2032704630127325/?type=3&theater
Candace Muzny Net Worth
Estimated Net Worth of her is under review. She stands 5 feet 4 inch tall and weighs around 58KG.