Amani al-Khatahtbeh
Amani al-Khatahtbeh was born on May 6, 1992, and from New Jersey, USA. She is a Tech Entrepreneur, Author, Activist, and Founder of MuslimGirl.com.
On November 14th, 2020 she was arrested on an American Airlines plane before it departed from New Jersey, Amani took to Twitter and wrote "I had the craziest experience in TSA this morning. An entitled white man behind me insisted on cutting me in line because I was 'still taking my shoes off'," and added, "When I said he could wait like everyone else, he started going off about how he's 'pre-check' and 'first-class'."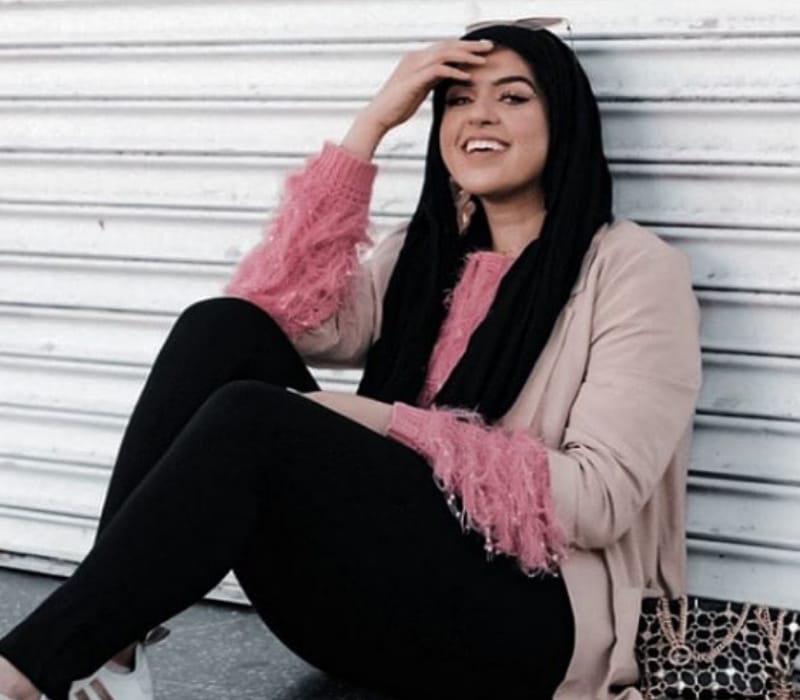 Then, in a series of Tweets, she wrote "Guys he made a complaint about me and @AmericanAir is attempting to remove me from the flight." Furthermore, she also uploaded a video on Facebook before she was arrested.
In the video, Amani said that "Literally they called the cops on me," and added, "This man in first-class made a complaint about me because he cut me in line at TSA and now they literally have police coming to escort me off this flight right now, for no reason, literally taking this man's word over mine."
She claimed that she was being removed while the man wasn't, she said "He made me feel uncomfortable, this man sitting in first class. I'm a veiled Muslim woman on this flight and they're taking his word for it."
Selaedin Maksut, Cair-New Jersey executive director released a statement "Law enforcement must immediately release Amani from custody and conduct a full and transparent investigation into what happened," and "Any investigation must look into the conduct of the unidentified man who allegedly sparked this disturbing incident."
Who is Amani al-Khatahtbeh?
She is an American Author and owns a blog named MuslimGirl.com, where it's an online magazine for Muslim women, Amani is also the Tech Entrepreneur and Activist.
Amani also the candidate in NJ-6 and became the first Muslim woman to run for federal office in New Jersey, in 2016 she was included in Forbes 30 Under 30 in Media for her work with MuslimGirl, and CNN named Amani as the 25 most influential Muslim Americans.
In 2016, Amani partnered with Teen Vogue for a web series where it explains the Issue of young Muslim women in society. In her career, she starred in the Emmy-nominated "Secret Life of Muslims," and Amani was also the youngest jury member to serve at the Cannes Lions Festival of Creativity.
Besides this, she faced allegations of staff mistreatment and content plagiarism by some sources. Furthermore, Amani was also involved in several controversies, she endorsed 9/11 conspiracy theories claiming that "9/11 was an inside job," and also promoted conspiracy theories claiming Israeli government-sponsored organ harvesting.
On April 4, 2020, she unsuccessfully ran in the Democratic primary for U.S. Representative for New Jersey's 6th Congressional district.
Family
How old is Amani al-Khatahtbeh? She was born on May 6, 1992, and from New Jersey, USA, she is 28 years old as of 2020.
She was born to Jordanian parents, her family relocated to Jordan in 2005 but after her mother fell ill, her family moved back to New Jersey.
Talking about her education, she attended Rutgers University and graduated with a political science degree. After graduation, she worked for a non-profit based in Washington, D.C. before moving to New York and briefly working for a major media organization.
Husband
Amani has not revealed anything about her Husband neither about her Boyfriend.
On Instagram, she boasts 85.7k followers and her bio reads "The NY Times calls me a media titan Founder @muslimgirl. First Muslim woman to run for Congress from NJ. As seen on @TIME @Forbes @Vogue + more WME."
Net Worth
Her Net Worth is $700K USD as of 2020. She stands 5 feet 9 inches tall and weighs around 58KG.
(Image Source: Amani al-Khatahtbeh Instagram)