Amanda Kloots
Amanda Kloots aka Amanda Kloots-Larsen was born on March 19, 1982, and from Canton, Ohio, USA. She is a Ballet Dancer, Fitness Trainer, former Radio City Rockette, Broadway Dancer, and celebrity spouse. Her Husband Nick Cordero passed away on July 5th at the age of 41 due to COVID-19.
Amanda confirmed his death on her Instagram, she wrote "God has another angel in heaven now. My darling husband passed away this morning. He was surrounded in love by his family, singing and praying as he gently left this earth."
Later, she added "I am in disbelief and hurting everywhere," and wrote "My heart is broken as I cannot imagine our lives without him. Nick was such a bright light. He was everyone's friend, loved to listen, help, and especially talk. He was an incredible actor and musician. He loved his family and loved being a father and husband. Elvis and I will miss him in everything we do, every day."
https://www.instagram.com/p/CCSBM89Axt_/
On June 5th, the news came out that for the past 25 days, he has been in the intensive care due to coronavirus complications and now Nick being in a medically induced coma, on Thursday his wife Amanda Kloots shared the stories on her Instagram profile that they have been "in a bit of a waiting game" since Cordero's amputation and also shared that doctors believe the actor "should have woken up by now" after performing an MRI scan earlier this week.
After a month of battle he lost his life on July 5th, Amanda last month wrote on Instagram "There's nothing on the MRI that says he won't wake up, which is great news. We are so happy about that. However, he hasn't woken up and it's been 12 days of sedation and the doctors do say he should've woken up by now." Then, Amanda Kloots wrote "We are just hoping and praying every day that Nick wakes up, and putting that energy and positivity out there. He is completely off blood pressure medication which is great, and they're trying to reduce the dialysis medication, which is great. Great news."
Earlier, on April 11th, she wrote on Instagram that Nick to be resuscitated in the middle of the night, Kloots wrote on her social media "My whole world has stopped. Please pray for my husband. Prayer warriors, prayer circles, whatever you've got. Energy, meditation, positive thinking. He is fighting for his life right now. Elvis and I need you, Nick Cordero. It's time to fight daddy."
https://www.instagram.com/p/B-0-oEsANN6/?utm_source=ig_embed
Career
She is a Ballet Dancer, Fitness Trainer, and celebrity spouse, from a very young age Amanda joined a professional ballet dancer and studied Performing arts.
Being a Fitness trainer she introduced different workout routines such as AK! Dance, AK! Fitness, AK! Baby Bump, AK! Rope and AK!. Furthermore, she owns a fitness training center across all major cities like Boston, Miami, Cape Town, Paris, and The Bahamas.
Also Read: Chandra Johnson
Family
How old is Amanda Kloots? She was born on March 19, 1982, and from Canton, Ohio, USA, her age is 38 as of 2020.
However, there is less information about her father, mother, and siblings.
Husband
Amanda and Nick first met in 2014 and got married on September 3, 2017, and only a few were invited to the ceremony.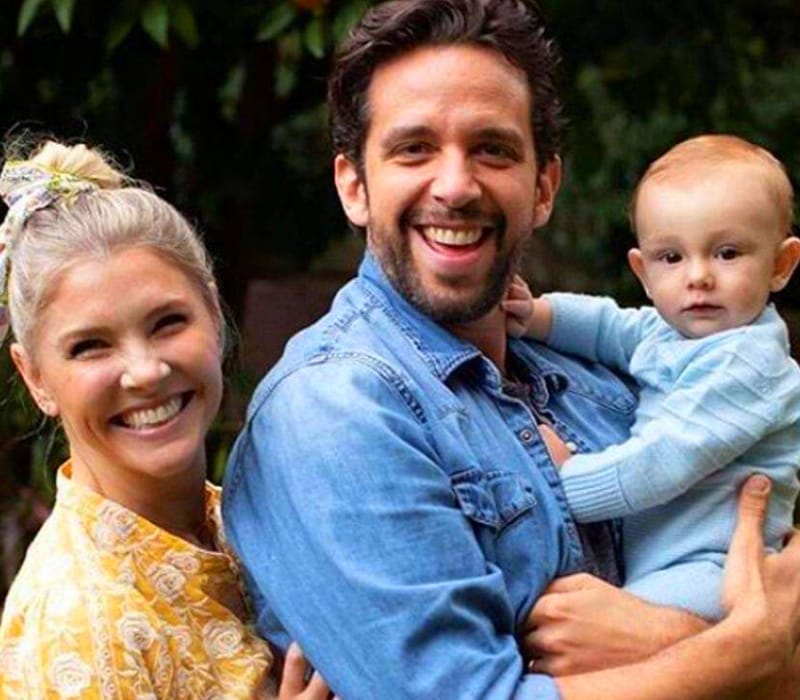 In 2018, the couple announced on social media that they were expecting their first child and Nick was very excited to announce this new on Instagram, he wrote "We're extra thankful this year. Amanda and I are excited to announce that we're having a baby boy!!!! Lil Cordero will be here in June, and we couldn't be happier. We've always wanted to be parents, so this is the greatest gift. Wishing everyone out there a safe and Happy Thanksgiving from our family to yours."
On June 10, 2019, Elvis Eduardo was born and will turn 1 in June 2020.
https://www.instagram.com/p/B_GIvH6nxaW/
Net Worth
Estimated Net Worth of her is $800K USD as of 2020. She stands 5 feet 6 inches tall and weighs around 57KG.