Rita Wilson Wiki
Rita Wilson was born on October 26, 1956, and from Hollywood, California, U.S. She is an American Actress, Producer, Singer, and Songwriter. She and Tom Hanks have been married for a long time and they have two sons Chester and Truman.
On March 12th Tom Hanks revealed on Instagram that they both have been diagnosed with coronavirus. The couple is in Australia for the pre-production of Baz Luhrmann's untitled Elvis Presley film from Warner Bros.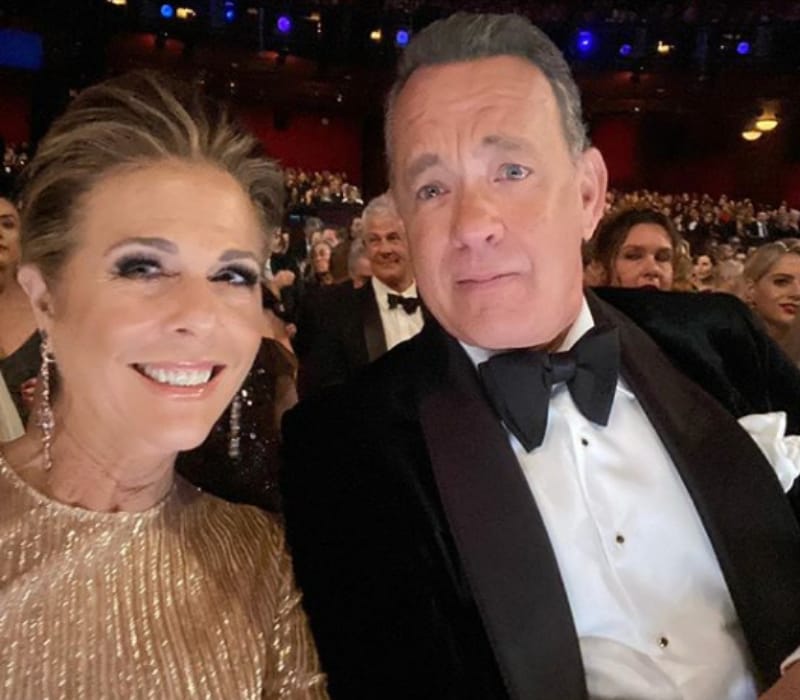 Tom Hanks wrote on Instagram "Hello, folks. Rita and I are down here in Australia. We felt a bit tired like we had colds, and some body aches. Rita had some chills that came and went. Slight fevers too. To play things right, as is needed in the world right now, we were tested for the Coronavirus and were found to be positive.
Well, now. What to do next? The Medical Officials have protocols that must be followed. We Hanks' will be tested, observed, and isolated for as long as public health and safety requirements. Not much more to it than a one-day-at-a-time approach, no?
We'll keep the world posted and updated. Take care of yourself! Hanx!."
https://www.instagram.com/p/B9nVasnBNF5/
Later, Warner Bros. said in a statement to CNN "We are working closely with the appropriate Australian health agencies to identify and contact anyone who may have come in direct contact with the individual," and added, "The health and safety of our company members are always our top priority, and we are taking precautions to protect everyone who works on our productions around the world."
Rita Wilson Career
She started her career from Television and made her first appearance as a guest on The Brady Bunch in the 1972 episode "Greg's Triangle," in which Rita played Pat Conway, one of the candidates running against Marcia for head cheerleader. Since then, she acted on M.A.S.H, Hawaii Five-O and appeared an episode of Bosom Buddies, which starred her future husband.
Furthermore, in her career, Rita has worked in several TV shows like Three's Company, 227, Who's the Boss, Moonlighting, and Tales from the Crypt. Talking about her movie career, Rita appeared on the movies like Volunteers (1985), Sleepless in Seattle (1993), Now and Then (1995), Jingle All the Way (1996), The Story of Us (1999), Runaway Bride (1999), and It's Complicated (2009).
Apart from acting career, she's also a Singer and on May 8, 2012, she recorded a debut solo album, AM/FM and this including a cover of "Wichita Lineman" that she performed with the song's writer-composer Jimmy Webb. On December 4, 2014, Rita performed for President Obama and Michelle Obama in the event.
Her second album was Rita Wilson and on September 28, 2018, Rita released her third album Bigger Picture. Later, on March 29, 2019, Wilson released her fourth album, Halfway to Home which included "Throw Me a Party", a song inspired by her survival from breast cancer.
In March 2019, she received a star on the Hollywood Walk of Fame. Additionally, she is also serving as contributing editor to Harper's Bazaar magazine, Editor at Large, of a section on The Huffington Post called Huff/Post50, and also written for O, The Oprah Magazine.
Rita Wilson Family
How old is Rita Wilson? She was born on October 26, 1956, and from Hollywood, California, U.S and she is 64 years old as of 2020. She is the daughter of Hassan Halilov Ibrahimoff aka Allan Wilson (Father) and Dorothea (Mother).
Rita has two siblings: Chris Wilson (Brother) who is a Musician and Lily Wilson (Sister).
Rita Wilson Husband
In 1988, Rita Wilson married actor Tom Hanks and they both first met on set of Bosom Buddies. Curently, the duo shares two sons, Chester and Truman. Additionally, Wilson has two stepchildren, Colin and Elizabeth Hanks.
In April 2015, Rita was diagnosed with breast cancer and undergone a double mastectomy and reconstructive surgery.
Rita Wilson Net Worth
Estimated Net Worth of her is $100 Million USD which includes her Husband's income. She stands 5 feet 8 inch tall and weighs around 64KG.