Peter Saide Wiki
Peter Saide was 36 years old Australian Actor passed away. On Feb 27th he died at the age of 36 and his friends and family tribute him on Social media.
On Feb14th Peter posted a Photo on Instagram and wrote "I'm afraid to say that I'm usually as much of a killjoy about Valentine's Day as I am about Christmas. This year, however, I really need to tell you about the woman I love."
Then, he added "The last two weeks have been the hardest of my life so far. No hyperbole. More doctors and nurses and hospital rooms than you can count on all of your fingers and useless toes. The rest of that story is for later."
"Shelby has been a pillar. She has become Gunnar's caregiver, the disseminater of information to my group of closest friends here and to a very concerned family she has never met, on the other side of the planet. She has balanced her work with my endless logistics, literally accepted responsibility for my life and somehow managed a series of successful auditions in the meantime."
"Somehow, with all of this on her plate, every time I open my eyes she's there. Sitting quietly, smiling and holding my hand. She has never, for a moment, shown weakness or any sign of complaint. It's one of the greatest acts of love I've received in my lifetime. I am completely humbled and unspeakably grateful. I lay in awe of this beautiful, powerful, kind woman. And I want to celebrate her @skputlak on Valentine's Day. I adore her."
https://www.instagram.com/p/B8i4gt2pEYL/
Peter Saide Career
He is an Actor and knows for Huckabee (2008), Law & Order: Special Victims Unit (1999) and Well, Ashley (2019).
On November 29, 2017, in an interview with ActorMeetsCoffe when asked about describe yourself in 3 words he said "Oh woah… sure. When do you ever have to answer this question!? Tall? I feel that I am tall of heart! Easy-going and spontaneous. Although it depends on who you talk to because there have been moments in my life when I was not easy-going."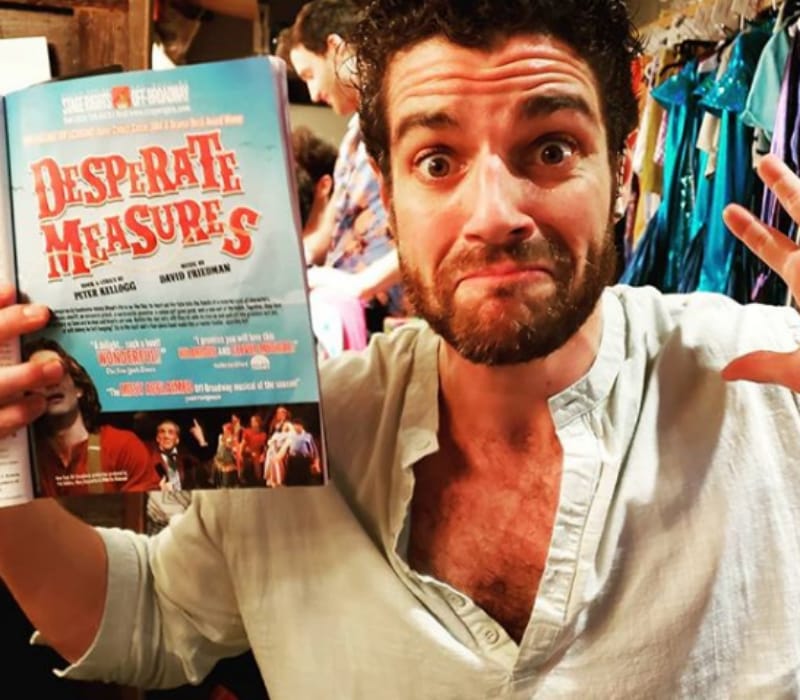 His first role was in 2008 he performed in a version of "Cinderella" in Manila in the Philippines. In 2010, Peter played the role of Bob Gaudio in "Jersey Boys" in Las Vegas. In 2019, he performed and was part of the cast of "The Last Days of Summer" in New Brunswick, New Jersey.
Additionally, in his acting career, he appered in the shows like Beauty and the Beast, Mamma Mia and Oklahoma.
Peter Saide Family
How old was Peter Saide? He was 36 years old during his time of death. However, there is not much information about his father, mother, and siblings.
He studied at QCM which is the Central Queensland Conservatory of Music and did a tiny little course. Earlier, Peter planned to be a Forensic Psychologist but ended up his career in the Entertainment Industry.
Peter Saide Wife
He was married once and in 2012 he got a divorce from his wife but there is not much information about it. Curently, he was in a relationship with his Girlfriend Shelby Putlak and on Feb14th he paid a beautiful tribute to his girlfriend.
In the post, he thanked Shelby Putlak for taken care of his dog, dealt with his concerned family members, all well successfully auditioning for parts on the side. Putlak is a working actor also.
Peter Saide Net Worth
Estimated Net Worth of him is under review. He stands 6 feet 3 inch tall and weighed around 81KG.