Patricia Blagojevich Wiki
Patricia Blagojevich aka Patricia Mell "Patti" Blagojevich was born on April 9, 1965, and from Chicago, Illinois, U.S. She is an Internet Personality, TV show host, and wife of Rod Blagojevich who is an American politician who served as the 40th Governor of Illinois from 2003 until his impeachment, conviction, and removal from office in 2009.
Blagojevich was impeached and removed from office for corruption and was convicted and sentenced to 14 years in federal prison. President Donald Trump commuted his sentence on February 18, 2020, ending his sentence four years early.
President Donald Trump spoke with reporters at Joint Base Andrews Wednesday on his way out of Washington, D.C. Later, he said he Pardoned Rod Blagojevich after seeing his wife on Fox News and she has been a regular on Fox News programming, making the case to hosts including Tucker Carlson, Jeanine Pirro, and Martha MacCallum as to why her husband should be pardoned.
In the Interview, Trump said "Yes, we have commuted the sentence of Rod Blagojevich, he served eight years in jail, it's a long time. I watched his wife on television. I don't know him very well; I've met him a couple of times," and added "He was on for a short while on Apprentice years ago. Seem like a nice person, don't know him, but he served eight years in jail, a long time he had to go, many people disagree with the sentences. He's not a Democrat; he's not a Republican."
Trump then added that after serving eight years behind bars, Blagojevich should be allowed to see his children grow up.
Patricia Blagojevich Career
She was the contestant on the NBC reality show I'm a Celebrity…Get Me out of Here in June 2009 and was placed 4th in the competition. In an interview with daytime TV talk show The View, she said.
"I went on the reality show because it was a necessity for our family. NBC wanted my husband on the show and he was unable to do it and I was faced with a choice …he lost his job, I was fired from my job, we have a home in a neighborhood in Chicago with a mortgage just like everybody else. We have two children in private school… so yes."
In 2009, she was fired from a $100,000 a year fundraising job after the controversy regarding alleged taped statements. Furthermore, she was also subpoenaed in February 2009 for documents related to her husband's political campaign and her work as a real estate agent.
From January 2003 to January 2009, Patricia Blagojevich served as the First Lady of Illinois. Additionally, after her husband went to Jail she defends her husband and campaigned for the past 2 years for early release.
Patricia Blagojevich Family
How old is Patricia Blagojevich? She was born on April 9, 1965, and from Chicago, Illinois, U.S and she is 54 years old as of 2019. She is the daughter of former Chicago alderman, Richard Mell (Father) and Marge Mell (Mother).
She also has a sister named Deb Mell who is an American politician from Chicago and is a Democrat and was formerly a member of the Chicago City Council, representing the 33rd ward.
Patricia Blagojevich completed her education from the University of Illinois at Urbana-Champaign with a bachelor's degree in economics.
Patricia Blagojevich Husband
She married Rod Blagojevich in 1990 and they share two daughters: Amy (23) & Annie (16).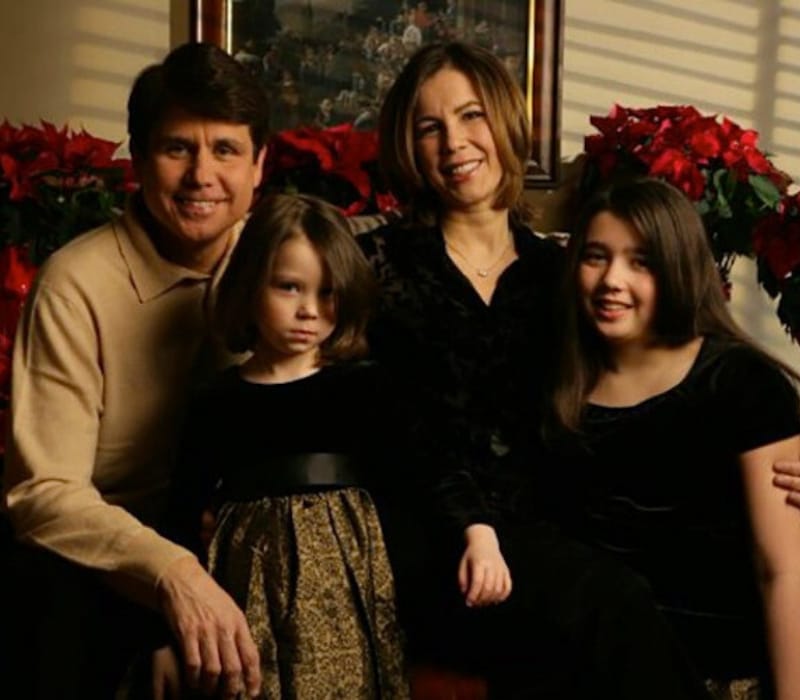 Amy currently attends college at Northwestern UniversityOpens in a new Window., while Annie is in high school, and has developed an interest in history and classical music. Both girls are close with their father, whom they call a "friend, confidant, and cheerleader."
Patricia Blagojevich Net Worth
Estimated Net Worth of her is $3.5 Million USD as of 2019. She stands 5 feet 6 inches tall and weighs around 64KG.