Krissie Newman Wiki
Krissie Newman was born on October 28, 1977, and from Statesville, North Carolina. She is the spouse of Ryan Newman who is an American professional stock car racing driver and competes full-time in the NASCAR Cup Series, driving the No. 6 Ford Mustang for Roush Fenway Racing.
On Feb 17th he was involved in a fiery crash that saw his car spin and goes airborne, flipping several times. Emergency crews were forced to cut the roof off of Newman's car to extract him from the wreckage.
"Ryan Newman is being treated at Halifax Medical Center," according to a statement posted on Twitter by Roush Fenway Racing. "He is in serious condition, but doctors have indicated his injuries are not life-threatening."
— NASCAR (@NASCAR) February 18, 2020
After this horrific accident fans are waiting outside of Halifax Hospital for news about Ryan Newman.
Fans have gathered outside Halifax to wait for news about Newman and pray for him and his family. The man I just spoke with was sitting directly in front of the crash. He was emotional discussing his worries about Newman's condition. #Daytona pic.twitter.com/tFImFZgmIU

— Deanna Allbrittin (@deannaTVnews) February 18, 2020
The 42-year-old racer is in his 19th full season in the NASCAR Cup series, according to his profile on the association's website. He was the 2008 winner of the Daytona 500 and holds 18 Cup Series wins, according to the website. Following Thursday's Twin Duel Races, in which Newman finished third in his Koch Industries Ford, he said in a statement "the big one is on Sunday."
"We had great execution by everybody at Ford to have a good, strong finish here," Newman said in his statement after Thursday's race. "I think we had the top four cars and it's something to look forward to for the 500."
Krissie Newman Career
She received her bachelor's degree in criminal justice pre-law from Shippensburg University in Pennsylvania. Then, she served as a courtroom clerk for the Mecklenburg County Criminal Courts and was a paralegal for a criminal attorney.
Additionally, she and her husband Ryan Newman founded a non-profit organization called Rescue Ranch located in Statesville, North Carolina. According to the organization website.
"Formed in 2012 on 87 acres in Statesville, North Carolina, Rescue Ranch is a 501 (C) (3) non-profit animal welfare organization founded by Krissie Newman and her husband, NASCAR driver Ryan Newman. Rescue Ranch promotes humane education by focusing on rescuing on a fundamental level through hands-on learning and care for animals."
"We intend to be the premier animal education center of its kind encompassing agricultural, wilderness and companion animal relationships as well as advocating for, and fostering kindness and understanding. Rescue Ranch promotes, through its education, respect for all animals, as well as agricultural, environmental, and wildlife conservation, and facilitates rehabilitation, rescue, and responsible pet ownership to enhance the human-animal bond."
They both are animal lovers and they even rescued many dogs named Dunkin, Mopar, Harley, Fred, and Socks. In 2005, she partnered with Project Halo, during the Hurricane Katrina Relief effort and in 2012 they founded Rescue Ranch for the adoption and care of animals.
Krissie Newman did not follow Nascar before meeting Ryan. Then after dating Ryan she showed Interest in the Stock car and helped Ryan in his career.
Krissie Newman Family
How old is Krissie Newman? She was born on October 28, 1977, and from Statesville, North Carolina and she is 42 years old as of 2019. She is the daughter of James Boyle (Father) and Joanne Boyle (Mother).
She also has a brother named John Boyle who is a police officer based in Lexington, Kentucky. Her grandfather James Boyle Sr. Was a World War II veteran and sound engineer.
Krissie Newman Husband
On February 13, 2020, four days before his Daytona crash, Newman announced that he and his wife Krissie will "amicably separated", but will remain, friends, raise their daughters together, and continue to run Rescue Ranch.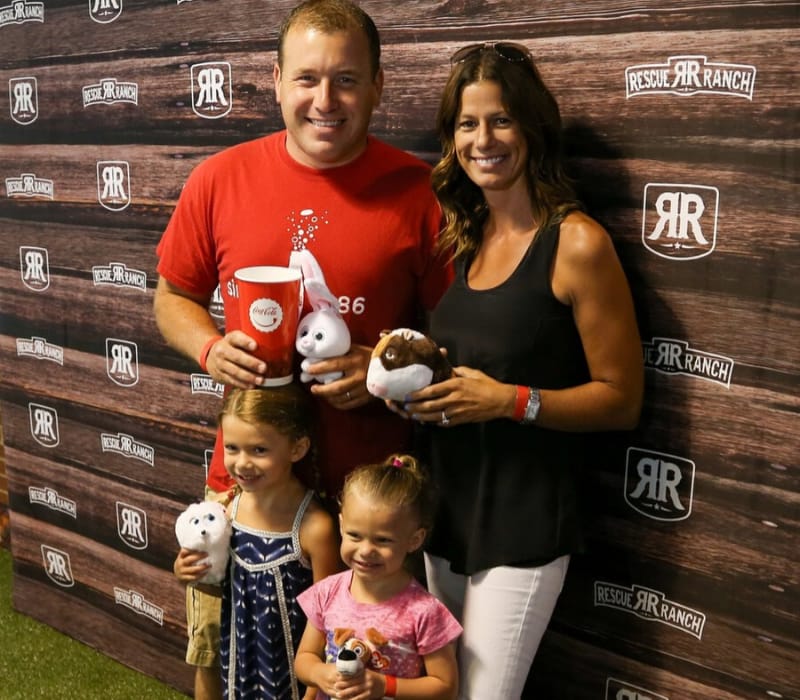 Krissie expressed her concern on Twitter after Ryan was involved in a serious crash during the final lap of the Daytona 500.
The former couple share two daughters: Brooklyn and Sage. Krissie and Ryan Newman tied the knot on January 3, 2004. They met through a church friend who set them up on a blind date in 2001.
Krissie Newman Net Worth
Estimated Net Worth of her is under review. She stands 5 feet 7 inch tall and weighs around 63KG.