Indian helicopter list
Indian helicopter list: Indian helicopters used in Indian defense, which is built by Hindustan aeronautical Ltd HAL. In the margin war, India lagged in the airstrike happened in the year 1990s, this lead to the development of attack helicopters.
India started building and manufacturing is own attack helicopters. India started building and manufacturing its own attack helicopters. Attack helicopters are used mainly for short-range purpose in a military, navy and air force.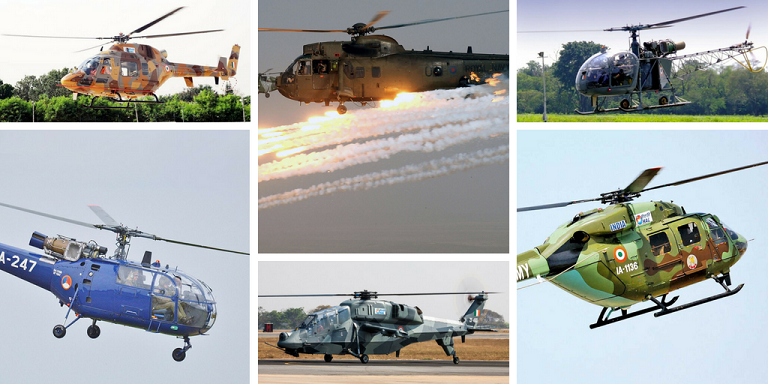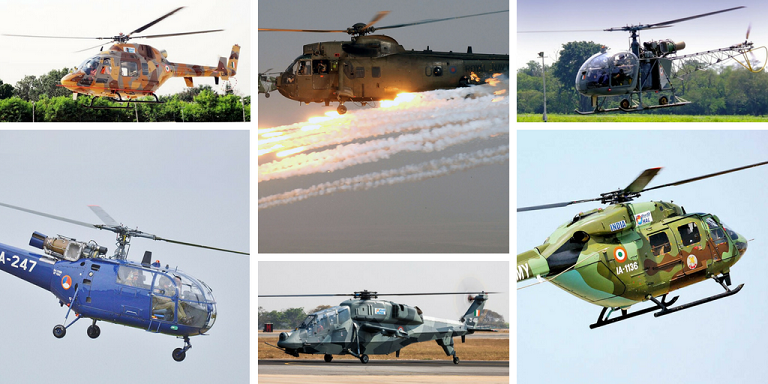 IMAGE SOURCE INDIAN ARMY
Indian helicopter list
Cheetah.

Chetak

Light combat helicopter (LCH)

Shrub helicopters

LUH (light utility helicopter)

Sea king.
Cheetah helicopter
It is a single engine French helicopter, designed to meet the high operational requirements for the armed forces India. It attains high altitude record of 12,442m, it is the highest altitude reached by this helicopter till its record is not broken.
The main role of this helicopter is for the Utility purpose. This Cheetah helicopter was first introduced in the year 1971 and it was primarily used in Indian Airforce.
This Helicopter was carried up to 4 passengers and its maximum speed attainable is 192 Km/h. it used single stage Centrifugal compressors and three-stage axial turbine. The fuel used is Aviation Kerosene.
Chetak helicopter
Chetak is also a single-engine helicopter but it is light combat utility helicopter designed and developed by French Aircraft Company named SUD aviation HAL is manufacturing under the license of French Aviation Company. It comes under high altitude and stable Indian helicopter list.
This helicopter can carry up to 5 passengers and 2 crew members and the max. The speed of the Chetak helicopter is 210 km/h. This helicopter can travel up to 335 miles at one stretch.
LCH (light combat helicopter)
The HAL light combat helicopter is an Indian multirole fighter aircraft developed and manufactured by Indian aviation company HAL. It is designed for both Indian army, air force, and Navy purpose. It is an indigenous multirole helicopter developed and manufactured by HAL.
It is the pride for India to have its own combat helicopter. It is all weathered and high altitude helicopter for an Indian army. It has an advanced technological system to destroy the enemies target with the visible camera even in the night on board flight.
Shrub helicopters
The HAL Shrub is a utility helicopter, it is developed and manufactured for Indian armed forces by Hindustan aeronautical limited. The design of shrub was announced in November 1984.
Shrub meets the requirement of both air force, military and also for a civil operator. It can also be used for the defense purpose, it is really helpful for medical evacuation transportation and reconnaissance.
Light utility helicopter
The HAL light utility helicopter is a single engine and multirole combat helicopter is designed under development for the Indian armed forces. The light utility helicopter which is designed by HAL is one of the best suitable helicopters for both the military and also for the civil operations.
LUH is built to replace both cheetah and Chetak helicopter, which are in the service for an India for decades of years. The LUH is designed and made a strategy to use composite material for the light weight of the helicopter to meet the requirement of Indian air force and army.
It should be capable to perform in all weathered conditions, this project underdevelopment, it is planned to perform in all weathered conditions, this project is under development, it is planned to manufacture in rumor helicopter division.
Sea king
Sea king is one of the Indian helicopters, the sea king is a British licensed helicopter, it was built by Westland helicopters. Gnome engine is used for power-driven the sea king helicopter. It is an anti-submarine warfare system flight control system. It helps for a troop transparent.
India is developing its own helicopter for the armed forces, designing lightweight helicopter for combat purpose. HAL is manufacturing helicopter, attack helicopters to strengthen the Indian navy, army, coast guard and airforce. HAL is now planning to design a micro helicopter, it is a future project of Hindustan aeronautical limited.
HAL wanted to make stronger and powerful armed forces in the world, it is really working hard to meet the requirements of an defense of India.
HAL is state-owned public sector involved for assisting the armed forces behind the armed forces, over 75 years, HAL is ready to serve for the nation with its intellectual technical knowledge to help the Indian defense.
The main purpose of developing Sea King was to perform anti-submarine warfare missions. Later this was adapted as a troop transport by Westland.
The maximum speed that this helicopter can reach is up to 129 mph and the range that it can travel is about 764 miles. One of the special features of the Sea King helicopter is that it has a Ten-stage axial flow compressor and an annular combustion chamber.
Visit Walikali for Latest Information