Erendira Wallenda Wiki
Erendira Wallenda is the wife of Nik Wallenda who is an American acrobat, aerialist, daredevil, high wire artist, and author. On March 4, Nik and Erendira walked across a volcano live on Wednesday night starting at 8 p.m. Eastern.
Daredevil Nik Wallenda took on the active Masaya Volcano in Nicaragua this evening in an ABC special, Volcano Live! As the title suggests, the highwire walker attempted a 1,800-foot walk over the active volcano.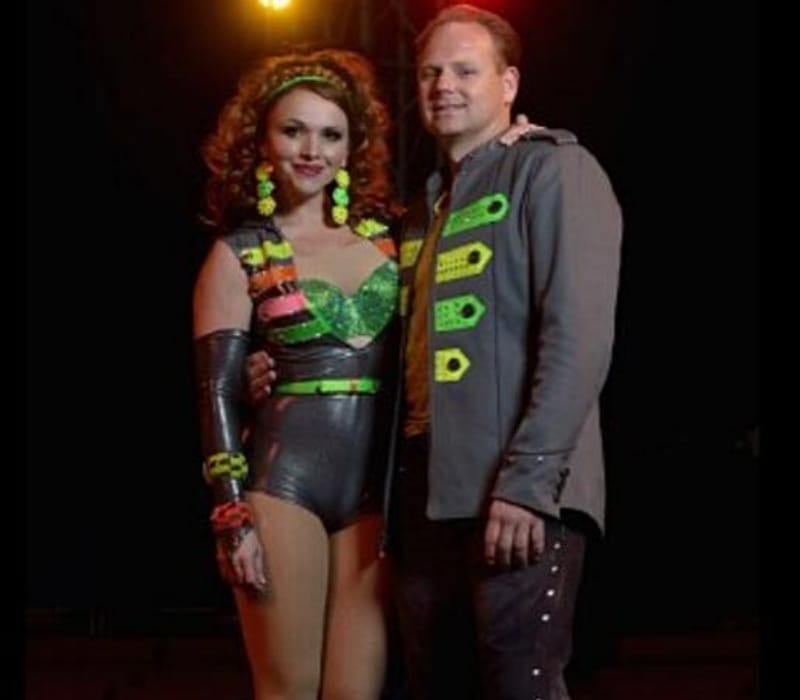 Wallenda is part of the seventh generation of the wire-walking family, whose outrageous stunts have brought fame and tragedy to the family. This latest feat marked Nik's longest and highest highwire walk ever attempted, as he tried to become the first person to walk across the volcano. But in the course of the task, some viewers were left angry by a certain feature of the stunt.
He's walked over Times Square, the Grand Canyon and Niagara Falls, but will @nikwallenda conquer the active Masaya Volcano in Nicaragua? Don't miss history and tune in to #VolcanoLiveWithNikWallenda LIVE TONIGHT at 8|7c on ABC! https://t.co/EAZjR1YBVv

— ABC (@ABCNetwork) March 4, 2020
Erendira Wallenda Career
Erendira is an Aerialist by profession and has done some amazing feats herself. She broke Nik's Guinness World Record when she performed on her fifth wedding anniversary, she hung onto an aerial loop by her teeth over a waterfall. Stunts aren't new to Erendira, who's been performing with her family the Flying Vazquez since she was nine years old.
On March 4th she will be performing the volcano. On March 1, 2020, Nik shared his wife video on Instagram and wrote "Verified
My wife Erendira will join me in Nicaragua for an out-of-this-world aerial performance above the Masaya Volcano. Don't miss it LIVE March 4 at 8/7c on ABC."
https://www.instagram.com/p/B9HcFDgn-Et/?utm_source=ig_embed
Earlier, On Feb. 28, Erendira took to Instagram to say the volcano event would include, "The Biggest Stunt That Nikolas And I Have Ever Done Together." As for what that means exactly, Nik is tight-lipped about what Eredira has up her sleeve. "You'll just have to tune in and watch," he said. "She came up to me within the last month and asked about doing something. So she's doing her own thing, and I'm doing my own thing."
The volcano is just 14 miles from Nicaragua's capital city, Managua, and sits 2,083 feet above sea level. It is also one of seven active volcanoes in the country. On the other hand, Nik holds eleven Guinness World Records for various acrobatic feats but was best known as the first person to walk a tightrope stretched directly over Niagara Falls.
On March 4, 2020, they both walked ver Masaya volcano in Nicaragua, a 1,800-foot walk in 31 minutes and 23 seconds.
Also Read: Tim Mynett Wiki [Ilhan Omar Boyfriend]
Erendira Wallenda Husband
Nik Wallenda proposed to Erendira during a high-wire walk in 1999. The proposal happened in a Montreal show that was sold-out and they were married in a courthouse because they didn't have much money back then, and she couldn't afford a wedding dress. She wore a blue dress with polka-dots.
Nik and Erendira Wallenda have three children: Yanni, Amadeos, and Evita. Nik has taught his children to the tightrope since he started leaning himself when he was just two.
Erendira Wallenda Net Worth
Estimated Net Worth of her is $850K USD as of 2020. She stands 5 feet 5 inch tall and weighs around 58KG.