Bruno Cannetti Wiki
Bruno Cannetti is 30 years old Combate Americas Featherweight Champion and from Argentina. In his MMA Career, he won 9 matches with 6 loss. Recently, he was shot twice by armed thugs in an attempted robbery.
He was shot in the chest in Argentina after two individuals tried to steal his motorbike. According to the source he was ambushed by two armed robbers when he was driving through Lanus, a city south of Buenas Aires, on May 30.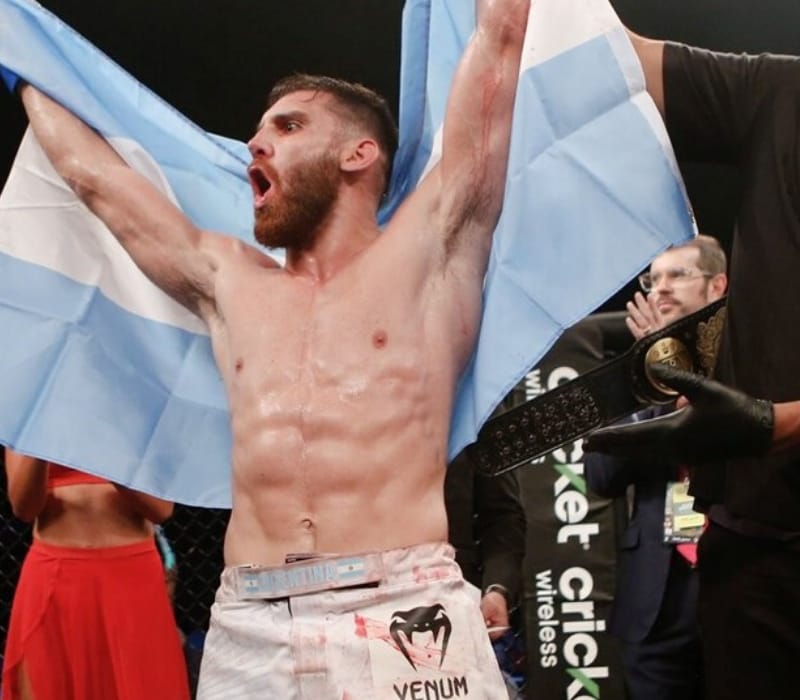 Bruno parked up to text his brother Guido then two men left their car and demanded the keys to his bike but one of the men tried to punch him, so Bruno punched him back and the other thief brandished a gun and opened fire at Cannetti, who subsequently ran and hid behind another vehicle.
His brother, UFC bantamweight fighter Guido "Ninja" Cannetti also his trainer. Later, Bruno was transported to a local hospital where they removed a 22-caliber bullet from his chest and now he has been released from the hospital.
Bruno's brother Guido "Ninja" Cannetti said that "He is fine. … He was lucky that no bullet entered a soft spot and did not affect his organs."
https://www.instagram.com/p/CA1YLbXJBah/?utm_source=ig_embed
Career
He won the Combate Americas featherweight title on August 23, 2019, when he toppled Andres Quintana by unanimous decision. Later, in his 10 years career, he recoded 9-6, with four wins by KO or TKO, one by submission and four by decision.
Bruno made his pro debut on September 9th, 2009 and his last fight was on August 23, 2019. After he was shot in the chest Bruno was seen speaking with a doctor at an Argentinian hospital that was shared by Ninja.
The Instagram video caption reads "Today a tragedy occurred I was not going to publish it but I am going to do it in lanus they wanted to steal my brother's motorcycle @BrunoCannetti and as he couldn't find the keys they shot him 2 shots thanks to God one grazed his belly and the other for being a 22 and very close it was embedded in the sternum then I finish them running with a bullet Thank God this is perfect they took the lead out of his chest and now we are looking at ufc."
On June 3rd, Bruno posted on Instagram and thanked his fans for the wish, he wrote "Thanks to all those who sent messages to see how I was, I am in my house and thanks to the universe, God, Buddha, Allah or my loved ones who are taking care of me from the beyond, nothing happened to me and I only have a small wound where it impacted the bullet in the chest. Today on my birthday I can spend it with my family, my girlfriend, my dogs, and my friends even if it is at the distance that they are present."
https://www.instagram.com/p/CA8YEnjpxsu/
How old was he? He was born on June 2, 1989, and from Argentina and he is 30 years old as of 2020. However, there is not much information about his father and mother but has a brother Guido "Ninja" Cannetti.
On March 2, 2018, Bruno wished his brother Ninja and wrote "Happy brother's day @ninja_cannetti @titimarga I love them, they are the best brothers that could touch me."
https://www.instagram.com/p/Bf7MUtXBvIB/
Girlfriend
Bruno is in a relationship with his Girlfriend (name not available) but he shares his picture often on his Social media accounts.
Net Worth
Estimated Net Worth of him is $500K USD as of 2020. He stands 6 feet 1 inch tall and weighs 76KG.