Astra Missile is designed and developed by DRDO. Astra is an active RADAR honing beyond visual range air to air missile. Astra is a smokeless propulsion system built a complete ecosystem. This is the first indigenous Missile for an Indian Airforce, it is a beyond visual range NVR and it is of the large range.
Astra is a long range because it should be capable to reach a target at varying range and altitude for both short-range targeted 20 km destinations. And looking range is up to 110 km. Astra missile is said to be proud of Indian Airforce and in the future researches are trying to enhance its technology.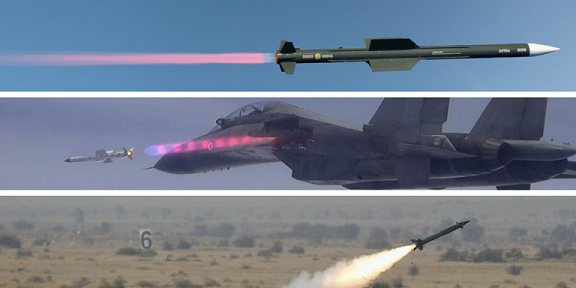 IMAGE SOURCE INDIAN ARMY
Astra missile has the versatile capability and can engage targets at very long range, short range, and medium-range missiles can be launched for varying altitudes of engaging targets. Astra is designed as all-weather NVR air to air missile developed by DRDO, India. Astra missile is used by Indian Air force for Sukhoi-30 and for the integrated Dassault mirage and MIG 29, in the future prototypes.
Astra missile is a long range, short range beyond visual range missiles.
It is an indigenous Missile developed by DRDO.
It helps to engage targets varying at different altitudes.
It has the versatile capability, a missile is launched from multiple targets.
The warhead is about 15kg, high explosive.
It is a 3.8 m long and it is narrow in front of the wing.
A ramjet propulsion system is used in this to enhance its kinematics performance and to improve range of the missile.
Astra missile has undergone various tests are in chronicle order.
Control system check guidance
Night fighting capacity
Astra is an air to air and air to the surface missile is indigenously designed and developed by ADE, the Bangalore based organization. It is planned to install into HAL Tejas, Sukhoi fighter aircraft, has good range, and launching capacity. Astra is beyond visual range, and radar homing, missile. After the Brahmos India is now wanted to induce Astra in, Airforce fighter aircraft.
Airforce has given the green signal, for DRDO to install missile in, the fighter and the missile are engaged in the target to, intercept enemies and destroy their targeted destination through the air to air and air to surface missile. Astra, the missile is targeted, its warhead is having the capacity to carry a weight of 15 kg, of it is a nuclear warhead.
Astra is an inertial navigation, radar homing. Varying range altitude of short range, looking range and high altitude. Astra project was started in the year 1990, it is showed in the air India exhibition in 1998. It was completely tested in 2006. It is redesigned for a long-range adverse design of interaction of aerodynamics and propulsion system.
After the implementation of advanced technology, and the redesign of missile reduces the weight of Astra missile up to 130kg. Astra project is finally completed and declared to manufacturer Bharat dynamics limited. DRDO is planning to use liquid fuel ramjet and solid fuel, to make it as a hybrid propellant system. It is now a solid motor rocket, to make it as pulse dual solid motor rocket.
The maximum rage of Astra is 110km on ahead chase and whereas 20km in a tail chase. Astra is having a speed of 4.5 Mach number to propel the missile forward, it is having advance electronic countermeasures in it. The wings of Astra are designed in such a way that, they allow the target to engage around 80km.
Astra is active home radar having the capacity to engage, detection up to 25km range. The projected is completed with assistance from Hindustan aeronautical limited, Bharat electronics limited and electronic corporation of India. India became a pioneer in missile development to full fill the requirement of India defense system.
| | |
| --- | --- |
| Weight | 154kg |
| Length | 3.57m |
| Warhead | Pre-fragmented warhead with the high explosive |
| Warhead weight | 15kg |
| Propellant | Solid |
| Operational range | 80-110km |
| Speed | Mach 4.5 |
| Guidance system | Inertial, mid-course update and active RADAR homing |
| Type | Air to Air missile. |
Conclusion: As we have seen from out above discussions about the origin of Astra missile, its capabilities, and performance. The scope of this Astra missile in our Indian defense.  Let us just recap all the above details in simple points.
It is an Air-to-Air missile.
It is a beyond visual range missile.
Astra missile is the first indigenous missile for Indian Airforce.
Long range missile and can travel up to 110 km.
Engages targets at varying altitudes.
It uses a Ramjet Propulsion system.
It has the versatile capability and can engage targets at long range.
It contains Pre-fragmented warhead with high explosive.
Has versatile capability and can strike multiple targets.
Astra Missile can reach a maximum of 4.5 Mach.
Astra project was completed testing in 2006.
It has a smokeless propulsion system.
It engages targets at varying altitudes.
Visit Walikali for Latest Information