Anthony Brennan III
Anthony Brennan III is 60 years old man arrested Friday in connection to the viral video who charged teens putting up George Floyd protest flyers. Anthony is from Kensington, Maryland and on Friday he was arrested and charged with three counts of second-degree assault by Maryland-National Capital Park Police.
On Monday, i.e on June 1st in the video he was seen biking on a trail just outside of Washington, D.C and he allegedly was caught on camera forcefully grabbing the teen's arms with one hand and ripping the flyer from her with other. In the video, one teen said to him "Get off of her!" another woman shouts at the man in the video.
Since then, his video was circulated widely on Social media and was wearing an orange helmet. Later, he attacked another man with his Bicycle who was taking the video, causing him to fall to the ground. Furthermore, Police received hundreds of tips about Brennan's identity and corroborated the information with their own sources.
However, on Friday they contact Brennan through his lawyer and arranged for him to turn himself in.
Anthony Brennan III Attacked Three Teen Who Was Protesting the Death of George Floyd.
Three teens, who ranged in age from 17 to 19, we're posting flying calling for community action over the death of George Floyd.
The flyers read "KILLER COPS WILL NOT GO FREE," and the attack video was posted to social media shows a male bicyclist, identified as Brennan, accosting a young woman while another young woman screams at him to "get off of her."
Then, he immediately grabs his bike and rushes toward the young man who was filming. Moreover, his video was shared and it received over 27 million views on the various social media platforms.
After his arrest, the Park Police thanked the Montgomery County Police and the Montgomery County State's Attorney's Office, and those residents who offered information, for their help.
Peter Weinberg was Wrongfully Accused.
Peter confirmed that he was not the man to identify the wanted bicyclist and wrote on Twitter "I recently learned I have been misidentified in connection with a deeply disturbing attack," Weinberg wrote on Twitter last Thursday night. "Please know this was not me. I have been in touch with the authorities and will continue to help any way possible."
https://twitter.com/pweinberg/status/1268751274213871616
Later, in the Follow-up Tweet, he shared a Maryland-National Capital Park Police report that cleared him as a suspect.
https://twitter.com/pweinberg/status/1268906611499839488
Anthony Brennan III Family
He has been married for 31 years and has three adult children, ages 20, 27, and 30. His wife Jezic shared that Brennan has no history of violent or harassing behavior. Instead, he believes his client's mind was fogged by months of being cooped up inside his home, and the rush of an intense workout.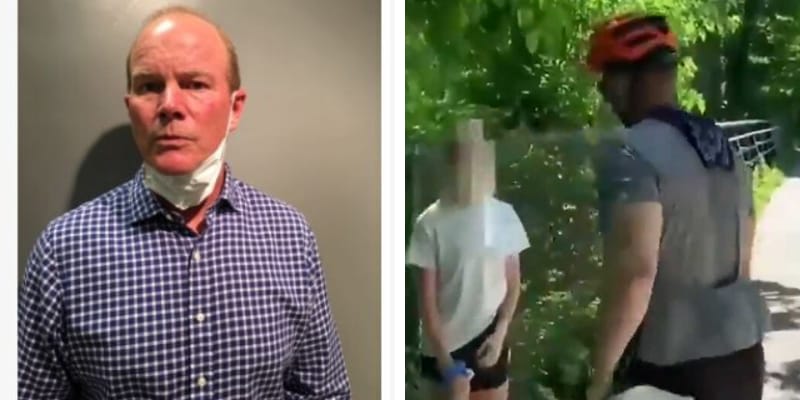 Later, she said, "He's been very active in raising his kids, coaching, things like that."
Anthony in a written statement he wrote "I am sick with remorse for the pain and fear I caused the victims on the trail, and online. I am cooperating fully with authorities. I am committed to making amends by addressing, through counseling, the underlying issues that led to my abhorrent behavior."
Anthony Brennan III Career
He served as a sales partner for MadeToOrder, Inc and its a California-based company that creates branded products. Furthermore, the company has ended Brennan's employment and in a statement they said.
"Recently, we discovered one of our employees engaged in disturbing, wrongful, and completely unacceptable behavior directed towards peaceful demonstrators. We have zero tolerance for this behavior, and we took immediate and decisive action, terminating the employee. This behavior does not, in any way, reflect our company's commitment to acting with respect and compassion to everyone within our company and those in our communities. We steadfastly strive to promote an environment that recognizes the dignity, diversity, and worth of every individual within the company and the community together with a commitment to treat one another with respect and compassion. The indefensible conduct displayed by this individual counters our company's culture and commitments. We stand in solidarity with our Black community. Black Lives Matter."
https://twitter.com/MadeToOrderInc/status/1269082194519064576
Anthony could face up to 30 years in prison on the three second-degree assault charges.