Amina Muaddi is a Shoemaker and fashion designer from Jordanian-Romanian. Amina Muaddi, the designer who dazzled Rihanna with her incredible creations. Amina has a vast list of celebrity clients and even her own line of footwear that is changing women's footwear.
The designer and businesswoman are noted for designing a line of shoes for a lot of celebrities under her own name brand. Amina co-founded the Milanese shoe business Oscar Tiye, although she has always dreamed of having her own brand. She has a full-fledged range of designs by 2017.
Who is Amina Muaddi?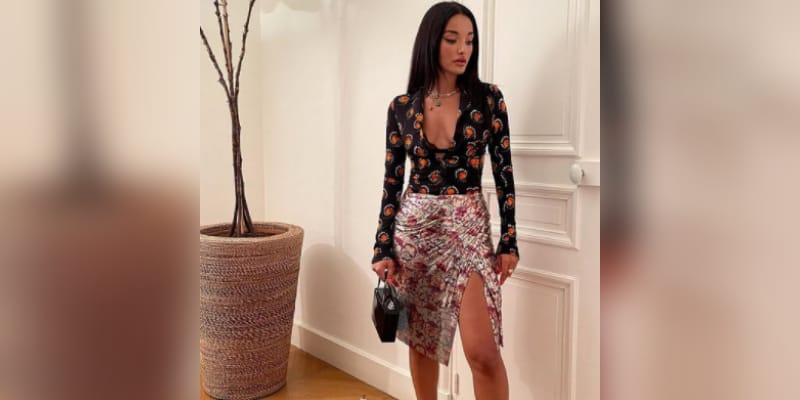 Muaddi was born to a Jordanian father and a Romanian mother in Romania. Her family moved to Amman shortly after that. She worked as an assistant stylist for Condé Nast, Vogue Italy, L'Uomo Vogue, and later GQ magazine in New York after finishing her studies at the European Institute of Design in Milan.
Muaddi developed an interest in footwear design and relocated to the Riviera del Brenta to master the technique and work with artists and suppliers. When Muaddi returned to Milan in 2013, he co-founded the luxury label Oscar Tiye, which debuted at Milan Fashion Week that year.
She subsequently relocated to Paris, where she worked as a designer for Alexandre Vauthier's footwear brand. In 2017, the designer parted ways with Oscar Tiye and created her own label. Her creations have been worn by celebrities, including Rihanna, Gigi Hadid, Kim Kardashian, Bella, and Kylie Jenner.
Rihanna engaged Muaddi to develop footwear for Fenty in 2018, and their debut collection was released in July 2020. She collaborated on a line with rapper A$AP Rocky in December 2020. Also, she served on the jury for the Vogue Fashion Prize in 2020.
Jahleel Weaver, Rihanna's stylist, introduced Amina to the singer. The singer fell in love with Amina's designs so quickly that she hired her to develop shoes for her next Fenty collection in 2020. Other celebrities that like Amina's trademark kick-flare shoes include Dua Lipa and Kendall Jenner.
Amina's Instagram has over a million followers, and she has a lot of celebrities wearing her creations. Her most recent Instagram image shows a pregnant Rihanna in an Ursina pump, which she still follows. Amina, who is a star in her own right, has published numerous breathtaking photos of herself wearing brand clothing and shoes.
How Rich is Amina Muaddi?
Amina Muaddi was born on June 2, 1987, in Romania, which means she is 34 years old. She was born to Felicia Cara Burcea (Mother), but we have information about her father and siblings.
Amina Muaddi Height
Amina Muaddi stands 5 feet 5 inches tall.
Who is Amina Muaddi Boyfriend?
However, Amina Muaddi has not revealed anything about her boyfriend or previous relationship.
How Rich is Amina Muaddi?
The estimated Net Worth of Amina Muaddi is between $5 Million to $10 Million USD.
(Image Source: Amina Muaddi Instagram)